"Fiercely Independent" Jordan Valentine Has Learned To Thrive In Her Sit Ski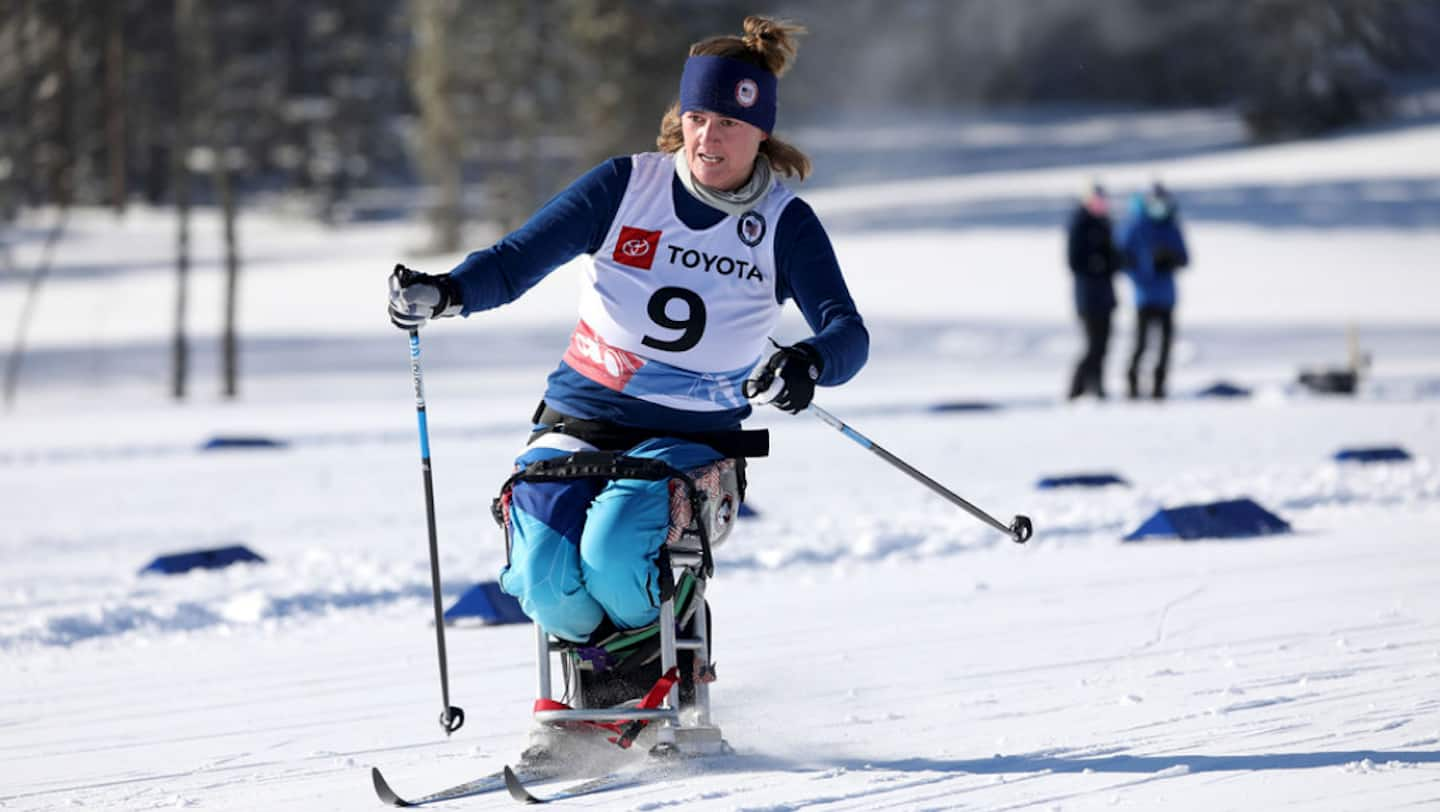 Jordan Valentine competes at sit ski nationals. (Photo: Crosscut Mountain)
Jordan Valentine admitted she didn't enjoy Para Nordic skiing for the first few months that she tried it.
As much as she liked being outdoors, Valentine said she felt uncomfortable moving around on the snow in a sit ski. Even more, she hated having to rely on other people to help her navigate the course.
It didn't suit her independent personality.
Growing up as a snowboarder and downhill skier, Valentine wanted to race as fast as possible down a mountain and not turn unless it was necessary.
Later, after she took up hiking, Valentine would go backpacking by herself along the trails in Oregon. In 2017, she hiked around 2,000 miles of the 2,650-mile Pacific Crest Trail that runs from Canada to Mexico.
"I didn't like the mechanics of (sit skiing), just using my arms," said Valentine, 28, who lives near Boise, Idaho. "I used to do months at a time where I was backpacking by myself and having to be like fiercely independent.
"Going from dangerously independent and being able to do whatever I wanted with my body to having to be helped down a hill or uphill was obviously a really big mental hurdle."
Valentine has since grown to enjoy Para Nordic skiing, and the sport has given her the opportunity to set new goals for herself after she sustained a spinal cord injury in a 2019 helicopter crash.
In April, Valentine was named the Rookie of the Year following the inaugural season of the National Para Nordic Development Race Series, which U.S. Paralympics Nordic Skiing created for up-and-coming athletes in the sport.
Three months earlier, she competed at the U.S. Paralympics Nordic Sit Ski Nationals in Bozeman, Montana.
Afterward, Valentine was scrolling through the Instagram account for Crosscut Mountain Sports Center, where the nationals were held. She said she saw photographs of some of the other athletes who competed looking "really cool and fierce" in their sit skis.
She said she then saw a photo of herself wearing her favorite hiking cap and looking like a "total derp" as she raced down a hill that she thought she would crash on but didn't.
"The photo just captures just me being ecstatic but also kind of gritting," Valentine said. "I saw that photo after, and I was like 'Holy (shoot), I have a lot of fun doing this. I think I want to see how far I can go.'"
Valentine said she now hopes to qualify for the Paralympic Winter Games Milano Cortina 2026, which is a long-term goal she couldn't have envisioned more than two years ago as she was recovering from the crash that changed her life.
On Oct. 25, 2019, Valentine was flying in a helicopter with her father, which was something they did together during her childhood. She had actually earned her pilot's license for planes at age 18.
"We were going to eastern Oregon to go to this really beautiful canyon by the Owyhee Reservoir," Valentine said. "And yeah, we were flying pretty low, kind of just like feeling the landscape, and we had a partial engine failure."
Valentine said their helicopter was soaring probably less than 100 feet from the ground when it started going down. When the helicopter crashed, her father was killed immediately on impact.
Rescuers found Valentine 16 hours later, suffering from hypothermia. She spent the next two months in the hospital with injuries to her L3 and L4 vertebrae, a broken foot in several places and a torn medial collateral ligament in one of her knees.
Valentine said it was later determined that a damaged intake hose in the helicopter's engine caused a temporary power outage, leading to the crash.
As a result of her spinal cord injury, Valentine wears ankle foot orthosis, which are like ankle braces to help her walk.
In 2020, her therapist introduced her to Para Nordic skiing when he told her that the Challenged Athletes Foundation was hosting a ski camp only a few hours away from Boise in McCall, Idaho. She decided to attend the camp and get into a sit ski for the first time.
"I would say — and I'm going kind of more off of what feedback people gave me — that I did well because it was very frustrating and it felt very hard," Valentine said. "And my arms, I had done stuff in a wheelchair but not much, so my arm strength wasn't great and I think at that point my core was still kind of coming back."
Despite initially not being a fan of Para Nordic skiing, Valentine said her outlook on the sport changed last May while attending a ski camp in Mount Bachelor in Oregon.
"We changed my position (in the sit ski) from my knees kind of being like a right angle right in front of me to putting them under (me), and that switch, I just had so much more power," Valentine said. "… Having that kind of crunching motion for me was a game-changer, so it was the end of that first season that I was like 'Holy (shoot), I actually feel good about this.'"
Wilson Dippo, who leads the Challenged Athletes Foundation's winter sports program, has served as Valentine's coach in Para Nordic skiing. She has also gotten help from sit skiers Erin Martin and Josh Sweeney, who competed for Team USA at the 2022 Beijing Winter Paralympics.
Sweeney, who lives only 30 minutes away from Valentine in Idaho, has become a friend. He helped her fix up a handcycle to train with in the offseason.
Meanwhile, Valentine said she has spoken with fellow sit skier and Paralympic hopeful Heather Galeotalanza about them someday completing the full Boulder Mountain Tour, a premier Nordic ski race in Sun Valley, Idaho.
After that, Valentine hopes to go even bigger and qualify for Milano Cortina in 2026.
"Definitely after my accident I just had very short-terms goals," Valentine said. "It feels good to have something super ambitious, super lofty, four years ahead of me."
Alex Abrams has written about Olympic sports for more than 15 years, including as a reporter for major newspapers in Florida, Arkansas and Oklahoma. He is a freelance contributor to USParaNordicSkiing.org on behalf ofRed Line Editorial, Inc.