Roundup: Paralympians Raise Funds For Challenged Athletes Foundation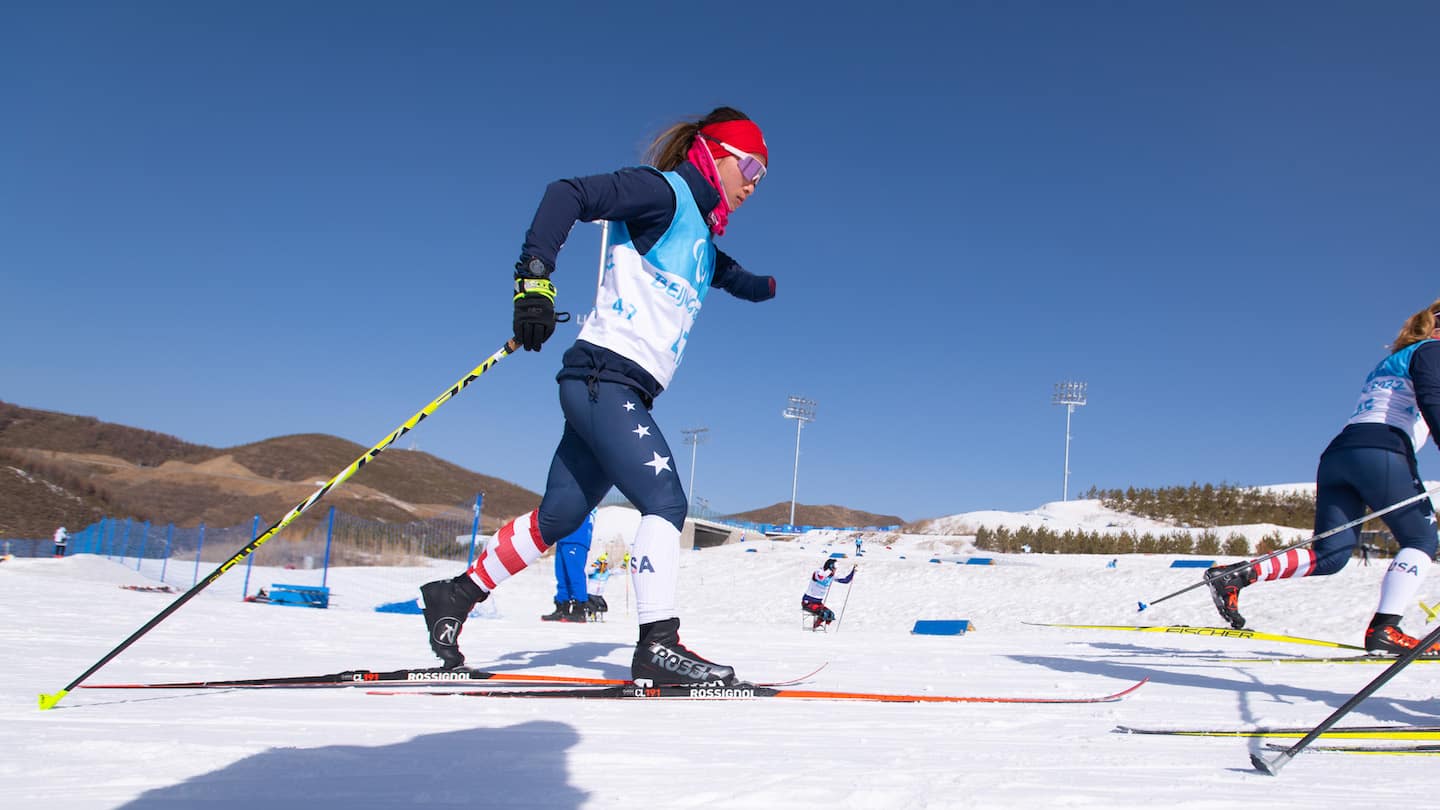 Grace Miller competes at the Paralympic Winter Games Beijing 2022. (Photo: Mark Reis)
Every other week we scour the web for the latest going on in the world of U.S. Para Nordic skiing. Here's what you missed!
Paralympians Help Challenged Athletes Foundations
Several Paralympians recently traveled to San Diego to help the Challenged Athletes Foundation.
Jake Adicoff, Dani Aravich, Lera Doederlein and Grace Miller met with children and helped raise funds for adaptive sports during the Challenged Athletes Foundation's community triathlon.
Doederlein shared several photos from her time at the triathlon on Instagram, including one of her standing with Aravich, Miller and Adicoff in front of a large sign for the Challenged Athletes Foundation.
"Thanks everyone for supporting the adaptive athlete community and all that we stand for," Doederlein wrote. "With your help so many incredibly experienced and future athletes are able to train, travel, and compete in their sports."
While in San Diego, Miller went surfing at the beach. The two-time Paralympian wrote on Instagram that surfing is "like skiing…but with water."
Oksana Masters Shares Photos Of Herself As A Child
Oksana Masters shared a photograph of herself as a child before both of her legs were amputated. The 17-time Paralympic medalist posted a pair of photos from her childhood on Instagram while promoting her new memoir, "The Hardest Parts," which will be released Feb. 21.
In the first photo, Masters is playing in the sand on a beach with her legs out in front of her. In the second photo, she's blowing out candles stuck into a watermelon.
"Baby Oksana didn't know she would one day lose both of her legs, would celebrate her first birthday at 8, loved watermelon cake, become an athlete representing Team USA, or would win her first gold medal of her career with a broken elbow," Masters wrote.
Masters, the most decorated U.S. Winter Paralympian of all time, was born with birth defects caused by radiation poisoning. She lived in Ukranian orphanages before she was adopted and moved to the U.S.
Masters wrote that her memoir tells the story of her journey "learning how to survive the first 7.5 years in orphanages and how they were my teaching tools to persevere through all of the hard parts life throws our way."
Sydney Peterson Shares Her Introduction to Skiing
Three-time Paralympic medalist Sydney Peterson remembers her introduction to Nordic skiing.
Peterson said in a video shared by U.S. Paralympics Nordic Skiing on Instagram that she started skiing in elementary school with the Minnesota Youth Ski League.
The Lake Elmo, Minnesota, native said she began skiing in the organization's youngest age group known as the "Little Polar Bears." She said she took the sport more seriously in high school and eventually joined the St. Lawrence University ski team.
Peterson made her Paralympic debut in Beijing in March, winning a gold medal as a member of the U.S. cross-country mixed relay team. She also earned a silver and a bronze in a pair of individual cross-country races.
Alex Abrams has written about Olympic sports for more than 15 years, including as a reporter for major newspapers in Florida, Arkansas and Oklahoma. He is a freelance contributor to USParaNordicSkiing.orgon behalf of Red Line Editorial, Inc.