How Para Nordic Skiers Use A Different Type Of Ski To Practice While It's Warm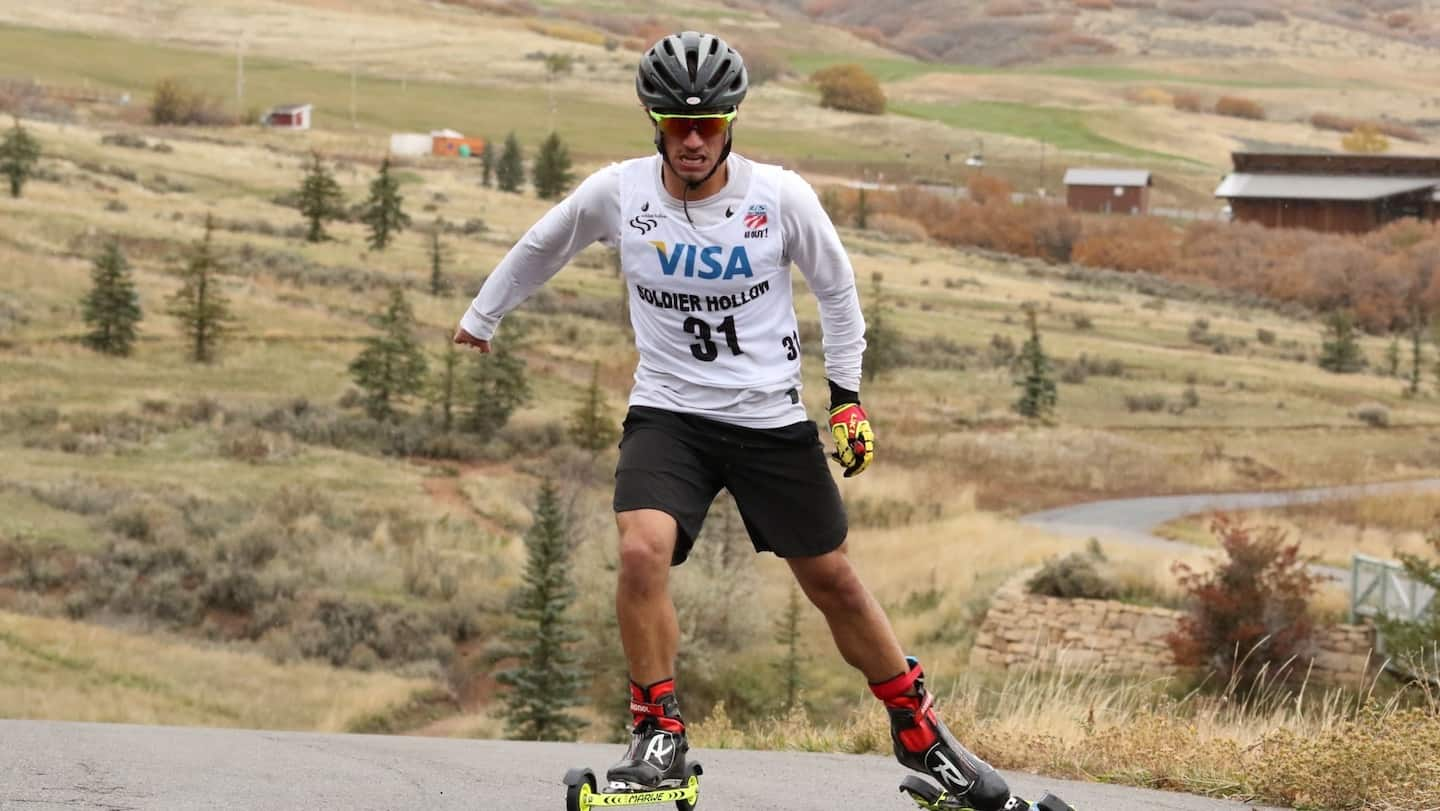 Ruslan Reiter roller skis in October 2021.
This summer, Dani Aravich strapped on a pair of roller skis and mimicked the motions she uses in Para Nordic skiing as she moved around on pavement.
Aravich, a two-time Paralympian, said she went roller skiing around four times per week this summer with her U.S. Paralympics Nordic Skiing teammates. They spent hours working on their fitness and skiing techniques while gliding around a partial roller loop at Crosscut Mountain Sports Center in Bozeman, Montana.
On occasion, they would find a neighborhood or another quiet area in Bozeman with smooth pavement to go roller skiing. They didn't need snow on the ground to train for the upcoming Para Nordic skiing season.
"The summer for us is really about building a huge aerobic base and being able to withstand many hours of training and putting in that base fitness (work) to be able to move into the winter," Aravich said. "So it's definitely a mixture of building up your fitness but also getting some technique work in as well."
Roller skiing, not to be mistaken for a style of cross-country skiing known as skate skiing, gives Nordic skiers the opportunity to train in warm weather. They can work in the offseason on both Nordic skiing techniques — classic and skate skiing.
Each roller ski has two wheels on it, one at the front and one at the back. Athletes use ski poles to replicate cross-country skiing on dryland.
Skiers who are accustomed to racing on snow-covered courses can practice in a T-shirt, shorts and a helmet for protection.
"Roller skiing is a great way to get ski-specific training during the offseason," Eileen Carey, director of U.S. Paralympics Nordic Skiing, said. "Since it uses the same motions as skiing on snow, it allows us to work on technical aspects of the sport and gain ski-specific strength when skiing on snow is not possible."
Carey said it's ideal for athletes to go roller skiing on a bike path or a paved roller loop like the one that U.S. skiers uses at Crosscut. Crosscut is planning next summer to pave another 3 kilometers that will be open only to roller skiers.
"For new skiers, we start (roller skiing) in empty parking lots or flat roller loops," Carey said. "We don't recommend athletes use roads until they are very competent skiers, and even then, we try to be on roller loops whenever possible."
Roller skiing can take some getting used to, and it can be awkward at first for athletes to get the hang of it.
Aravich admitted she found roller skiing "pretty difficult" when she tried it for the time in the summer of 2020 as she was making the transition from track and field to Nordic skiing. She eventually got used to skiing on wheels, though.
Aravich said she appreciates being able to train for the biathlon over the summer at Crosscut, where she can roller ski to the shooting range and go straight from skiing to rifle shooting like she would at a world cup competition.
"It's very beneficial obviously to have that tool that we can use in the summer compared to other winter sports," Aravich said.
Grace Miller, one of Aravich's teammates, was a junior in high school the first time she went roller skiing in an empty parking lot in Alaska. She's now a two-time Winter Paralympian.
When Miller was skiing for the University of Alaska, she said her coach had faster wheels put on her roller skis so she could keep up during her offseason workouts with her college teammates who didn't have any physical impairments.
Miller said she roller skis every offseason to stay in shape for the upcoming season. She said a typical training session on roller skis lasts 90 minutes, but it can go up to three hours as she practices on pavement for what she'll eventually do on snow.
"Since it is like the exact same motion, repetition makes everything perfect. Practice is perfect," Miller said. "Skate skiing especially is not very natural, so (it's good) being able to get more time practicing positive ankle balance and stuff like that."
Miller admitted there's a definite perk to roller skiing in the summertime.
"It's so much fun to be able to have like the action of skiing but have it be warm," Miller said. "So that's a fun trade."
Alex Abrams has written about Olympic sports for more than 15 years, including as a reporter for major newspapers in Florida, Arkansas and Oklahoma. He is a freelance contributor to TeamUSA.org on behalf of Red Line Editorial, Inc.