How U.S. Para Nordic Skiers Celebrated Thanksgiving Tradition In Canmore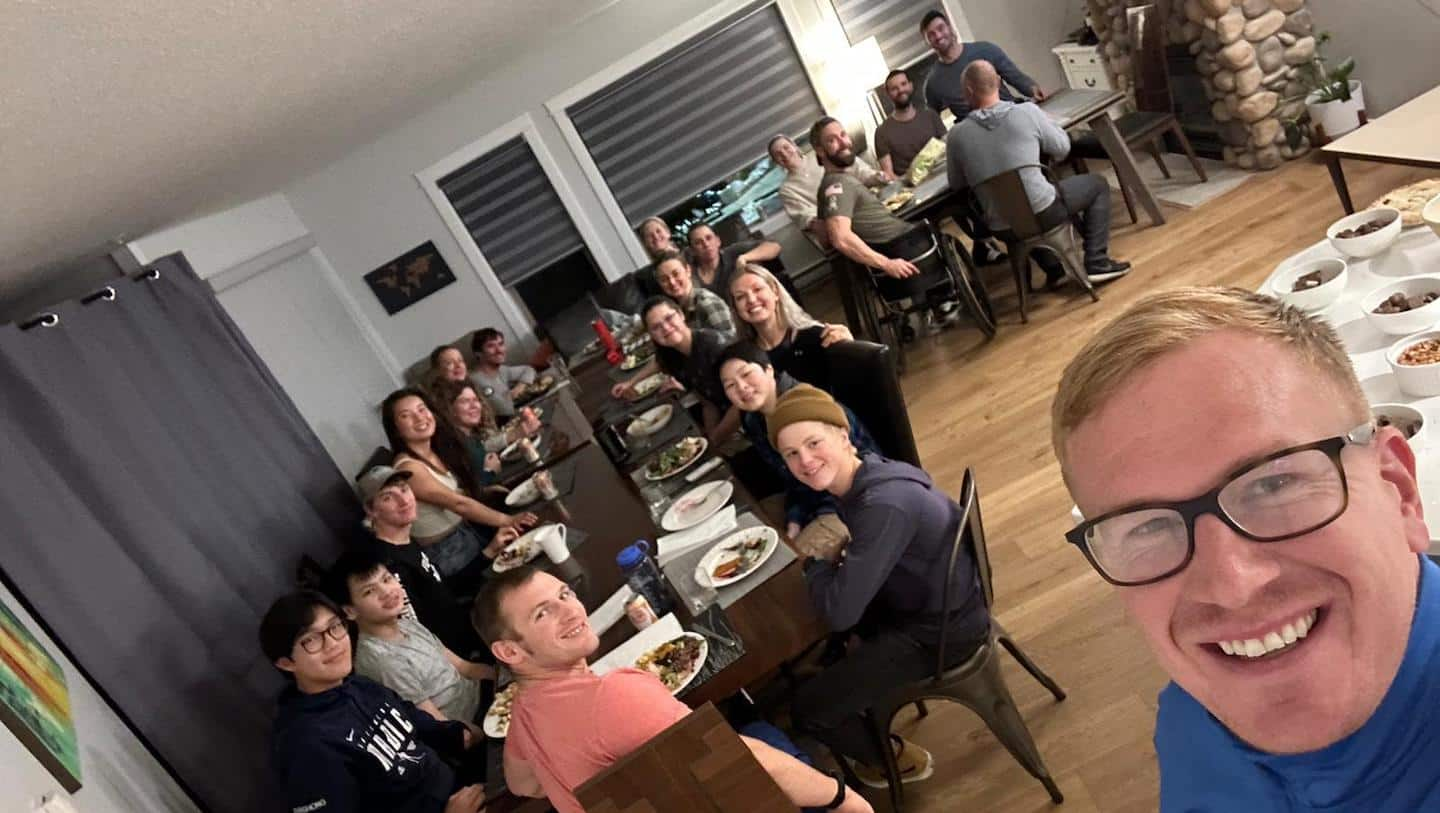 U.S. Para Nordic skiers eat Thanksgiving dinner with members of Team Great Britain in Canmore. (Photo courtesy of Nick Michaud)
As a kid, Josh Sweeney knew what to expect on Thanksgiving. His grandmother always made a big meal for the family. Everyone would eat, take a nap and then play boardgames.
Sweeney had a harder time celebrating Thanksgiving after he enlisted in the U.S. Marine Corps. If he couldn't be home for the holiday, he'd spend it with his unit wherever they were stationed.
"The cool part about the military side of holidays is that my family, when I finally did get to go home, whenever I did get to see them, that's when we would have our Thanksgiving or our Christmas," said Sweeney, who received a Purple Heart for his military service. "Essentially just do the holiday whenever we could do it."
Sweeney, a two-time Paralympian and a gold medalist in sled hockey, wasn't sure what to expect this year.
It has become an annual tradition for members of the U.S. Para Nordic skiing national and development teams to spend Thanksgiving training together in Canmore, Alberta.
U.S. skiers have again gathered in Canmore to prepare for the start of their world cup season in Planica, Slovenia, on Jan. 11. They're taking part in a training camp and a series of races while in Alberta. Of course, they enjoyed a big Thanksgiving meal as well.
After some light skiing on Thanksgiving morning, the athletes took a break and sat down like a family to eat, this year with members of Team Great Britain. This is the first year Sweeney, who's a father of two, will spend the holiday with the rest of the team.
He arrived in Canmore on Nov. 15 and will stay until Dec. 5.
"For me, I don't get very much time with the team because I live in Boise and most of them are in Bozeman, Montana," Sweeney said. "I don't get to spend a whole lot of quality time with the team, so as much as I would love to be spending it with my family, I also feel like this is one of the limited amount of times that I have to be able to spend it with the team and really help be a part of the team.
"I feel like it's worth it to be up here, and honestly the team is great. We are all like an extended family to each other, so it's an easy choice."
Sweeney also said prior to the holiday that he wouldn't mind if his favorite Thanksgiving dish — sweet potatoes with marshmallows — was served during the team meal.
Marta Scechura, a sports dietitian with the U.S. Olympic & Paralympic Committee, spent Thanksgiving with the skiers in Canmore.
In the past, Scechura has put the athletes through a cooking challenge similar to "Chopped," the Food Network game show. She gave them mystery ingredients and had them work in teams to create a tasty dish that was performance focused. She had a different plan for last week.
Scechura said she worked to create a Thanksgiving potluck that included such classic dishes as stuffing and macaroni and cheese. There was a slight catch, though.
Teammates and coaches were assigned to make a dish, but certain ingredients in the recipe were swapped out for performance focused options. For example, they made garlic green beans instead of a green bean casserole.
"For the most part, I did want this meal to include traditional foods that make it feel like Thanksgiving," Scechura said. "Especially being away from their families, I just really wanted the team to gather for an enjoyable meal to celebrate the holiday."
Since skiers usually travel a lot throughout the season, Scechura said most of the recipes she taught the athletes are ones they can make when they are on the road.
Additionally, this year, the team got a special treat in the form of Tandoori turkey from a local Indian restaurant, where athletes had eaten last year while in Canmore. The restaurant had saved a table runner that U.S. athletes had signed for them last year, and brought it out to show the team when they went back to the restaurant.
Thanksgiving was like a reunion for those U.S. skiers who competed at the Paralympic Winter Games Beijing 2022 in March.
"Most of us all went to the Games together," Sweeney said. "I don't think there's anybody here (in Canmore) who didn't go to the Games, so it was really exciting to be able to come back and see them after what felt like years."
Alex Abrams has written about Olympic sports for more than 15 years, including as a reporter for major newspapers in Florida, Arkansas and Oklahoma. He is a freelance contributor to USParaNordicSkiing.orgon behalf of Red Line Editorial, Inc.