International Coffee Day Is Everyday For Oksana Masters And Aaron Pike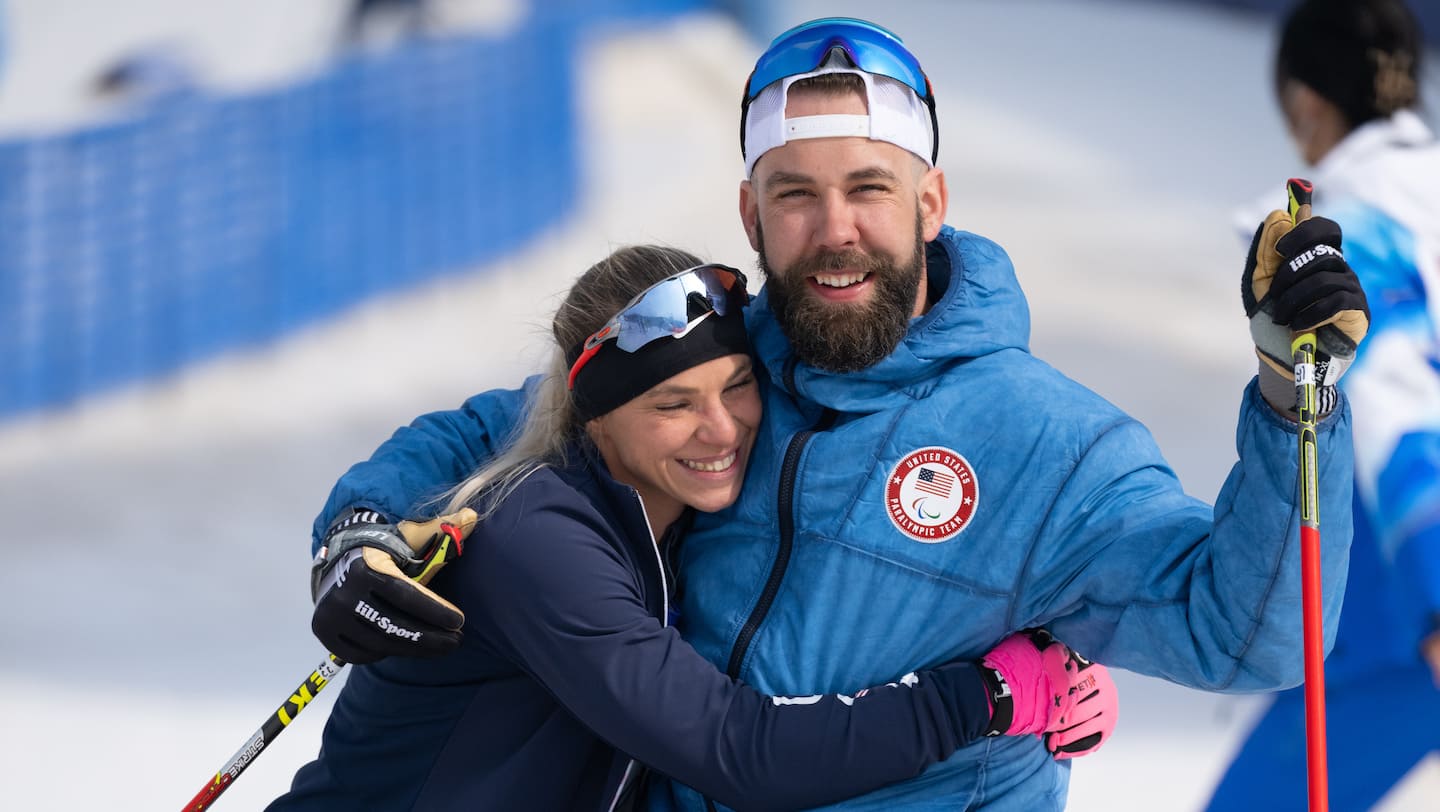 Oksana Masters and Aaron Pike after the cross-country sprint race at the Paralympic Winter Games Beijing 2022. (Photo: Mark Reis)
Oksana Masters fell in love with drinking coffee while working in high school as a barista at Starbucks and several other coffee shops around Louisville, Kentucky.
Her love for cups of coffee and shots of espresso has since turned into an obsession — one she shares with her fiancé, Aaron Pike, her teammate on the U.S. Paralympics Nordic Skiing national team.
Masters and Pike, each a six-time Paralympian in multiple sports, drink multiple cups of coffee every day. It starts with espresso first thing in the morning, and they keep it going with lattes and other coffee drinks until they go to bed at night.
"Oh my gosh, we love coffee," Masters said. "It's really, really sad and problematic, and we're probably single-handedly keeping the coffee business in business."
October 1 was International Coffee Day, but Masters and Pike celebrate it every day. They regularly share their love of coffee with their thousands of followers on social media, and Masters dreams of someday opening her own traveling coffee shop with Pike.
They also own several different types of coffee makers to get them through the day, including an elaborate espresso machine, a Chemex for pour-over coffee and an AeroPress to take with them when they're traveling to competitions.
"It's very much an everyday thing. It's an everyday, like 3-4 times a day, thing absolutely," Pike said of how much coffee he drinks. "I don't think we post (about coffee) as much as we actually drink, that's for sure."
After Pike returned home from competing in track and field at the Paralympic Games Tokyo 2020, he posted a photograph of his espresso machine on Instagram. He included the comment, "I'm back," as if he missed his espresso machine while away.
Only three days earlier, Masters shared a photo of herself looking overcaffeinated as she stood over the camera, her long, blond hair falling into her face. She wrote, "Signs of too much coffee… I mean is there such a thing."
Coffee seems to be the fuel that powers Pike and Masters as the couple train and compete in multiple sports. They're both dual-sport stars.
Masters is the most decorated U.S. Winter Paralympian of all time with 14 medals. She has won a total of 17 Paralympic medals in Nordic skiing, cycling and rowing.
Pike, meanwhile, goes from racing on snow in the winter to competing in marathons and track and field in the summer.
Pike said he enjoys going to coffee shops when he's traveling to competitions. However, he typically has to make coffee in his hotel room when he's competing in Para Nordic skiing because the events are often held in remote locations where there are no coffee shops.
Considering how much he loves coffee, it's only fitting that Pike shares the same name as a type of Starbucks coffee — Pike Place.
"The average person sees (drip) coffee, espresso and lattes all as coffee drinks, and I just see them as separate categories," Masters said. "So we're just drinking throughout the day, from like morning to literally when we go to bed. We both just have such a high tolerance for it we can drink it and still fall asleep."
Pike has a difficult time naming his favorite coffee drink. When he's traveling on the road, he loves making coffee using his AeroPress, which is like a portable French press and espresso machine in one.
There's no doubt, however, which coffee machine is his favorite when he's home with Masters in Champaign, Illinois. It's their espresso machine, which Masters called "amazing."
"If I'm making like a pour-over (coffee) or a French press, it's always black or espresso," Pike said. "We're both terrible at latte art, but we both make pretty good lattes right now. So if I'm making my coffee, it's only when I'm making a latte or I'm making like a macchiato or something like that, so a couple of shots and some foam."
While they're busy now juggling their different sports, Masters said she has talked with Pike about them someday opening a coffee shop. It wouldn't be a typical coffee shop, though.
Masters said she'd like to turn an Airstream into a coffee shop and travel around the country, serving coffee for a good cause. She'd want proceeds from the coffee shop to go to support local adaptive sports clubs and local Humane Societies.
"That would be my dream is to open up a coffee. I want it to be in like a mobile Airstream where it travels around because I'm a Gemini, and of course between Aaron and I … we don't like sitting in one place," Masters said.
"We've talked about the name of it and the names of the drinks and stuff. But my goal with my coffee shop is, with anything I do, I'm going to try to give back or bring awareness to something."
And since Masters loves animals, she promised she'd serve lattes with animal designs in the foam at the top of the cup.
Alex Abrams has written about Olympic sports for more than 15 years, including as a reporter for major newspapers in Florida, Arkansas and Oklahoma. He is a freelance contributor to TeamUSA.org on behalf ofRed Line Editorial, Inc.