National Para Nordic Development Race Series Shows Depth Of Skiing Talent In The U.S.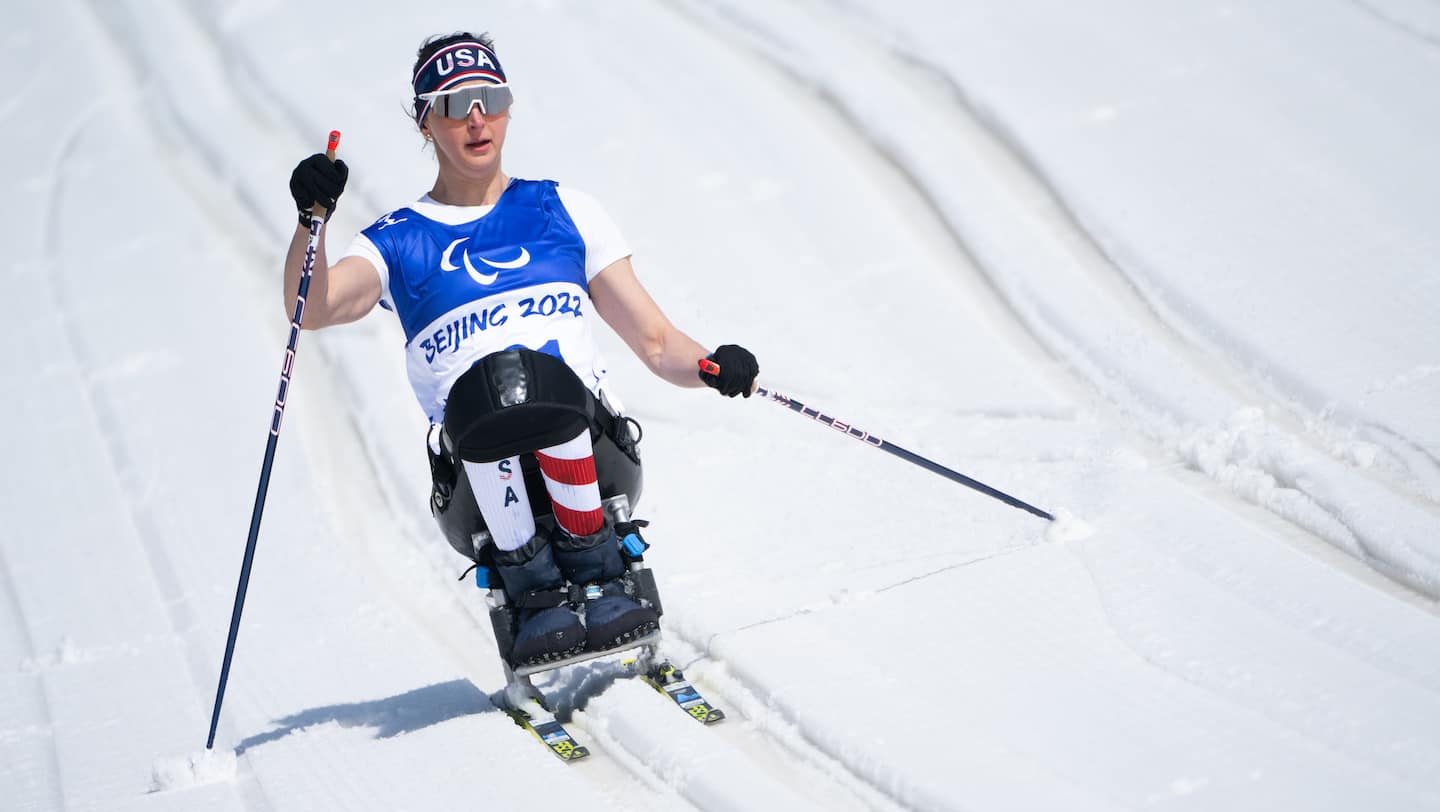 Erin Martin competes at the Paralympic Winter Games Beijing 2022. (Photo: Mark Reis)
Despite their differences in age and racing experience, three athletes separated themselves at the top of the field at the National Para Nordic Development Race Series this past season.
Erin Martin is a nurse. Pearl Outlaw is a member of the U.S. Rowing national team. And Michael Kneeland is still in high school. They're all at different points of their careers but proved to be in top form as they look to what comes next on the U.S. national team.
"They're all definitely on our radar, all at different points," BethAnn Chamberlain, a development coach with U.S. Paralympics Nordic Skiing, said of Martin, Outlaw and Kneeland. "I think we would see that regardless, but the fact that they are in the top three is indicating that they are competing regularly and are having success at it."
U.S. Paralympics Nordic Skiing started the race circuit last year as a way to encourage adaptive athletes to get on snow and take part in Nordic skiing races across the country.
The development race series expanded from four main races during its inaugural season to five races — a total of 11 competitions across seven states and two countries — this past winter.
Two-time Paralympian Dani Aravich was crowned the winner of the inaugural season. One of her national teammates finished atop the standings in year two.
Martin, a Seattle native, made her Paralympic debut as a sit skier in Beijing in 2022. Off of what was a promising start for Martin, she continued to show her potential by beating out 22 other athletes to win the development series this past season.
Outlaw, who's visually impaired, finished the season as the runner-up to Martin.
Outlaw is hoping to follow in the footsteps of multi-sport star Oksana Masters, who won a bronze medal in rowing at the Paralympic Games London 2012 before making the transition to Nordic skiing. Masters is now the most decorated U.S. Winter Paralympian of all time.
"The only big difference (with Nordic skiing) that I had to adjust to was the element of balance and weight, like transferring your weight in skiing from one foot to the other," Outlaw told TeamUSA.org this past winter.
"With rowers, we have a running joke that we're not agile and we are not balancing because we're just sitting. We're sitting in a boat, and we're strapped in."
Kneeland, who's a sit skier like Martin, made a strong impression this past season despite being only 17. He was named the development race series' Rookie of the Year after finishing third in the standings behind Martin and Outlaw.
Kneeland told USParaNordicSkiing.org this past winter that he wasn't able to play sports while growing up in a Chinese orphanage. That changed after he was adopted and moved to the U.S. at age 12.
After trying several other sports, Kneeland started working with U.S. Para Nordic skiing, which is based in his hometown of Bozeman, Montana. He competed at his first sit ski nationals in early January.
"I like the sport, but I know that making it to the Paralympic team takes a lot of hard work and a lot of time to race and try to improve your time and points and on top of that with my school and my other activities that I do," Kneeland told USParaNordicSkiing.org this past winter.
"So right now, my goal is hopefully to pretty much by 2026 be in the Paralympics."
Chamberlain said she has seen a steady growth in the development race series since it was launched. This year's field had 23 athletes, ranging from Kneeland at 17 to athletes in their 50s.
"It's a great opportunity for us to see new talent coming and also hopefully encourage the new talent through this series to get more racing in and more experience in because that's what it's about," Chamberlain said.
Chamberlain said she was planning to speak with the New England Nordic Ski Association about the possibility of adding Para Nordic skiing to its event calendar.
There's an excitement in the ski community about getting adaptive athletes competing in non-adaptive events. Chamberlain's already looking ahead to next season and finding new ways to help the race circuit grow even more.
"I think we will continue to examine events we'd like to include. We'd like to get events across the entire country, and we don't know yet what the calendar will be internationally and nationally next year," Chamberlain said. "Continuing to evaluate the best opportunities for adding different events to this series will be something we'll be focusing on."
Alex Abrams has written about Olympic and Paralympic sports for more than 15 years, including as a reporter for major newspapers in Florida, Arkansas and Oklahoma. He is a freelance contributor to USParaNordicSkiing.orgon behalf of Red Line Editorial, Inc.