Training With U.S. Teammates Kept Kendall Gretsch Sharp During A Successful 2022-23 Season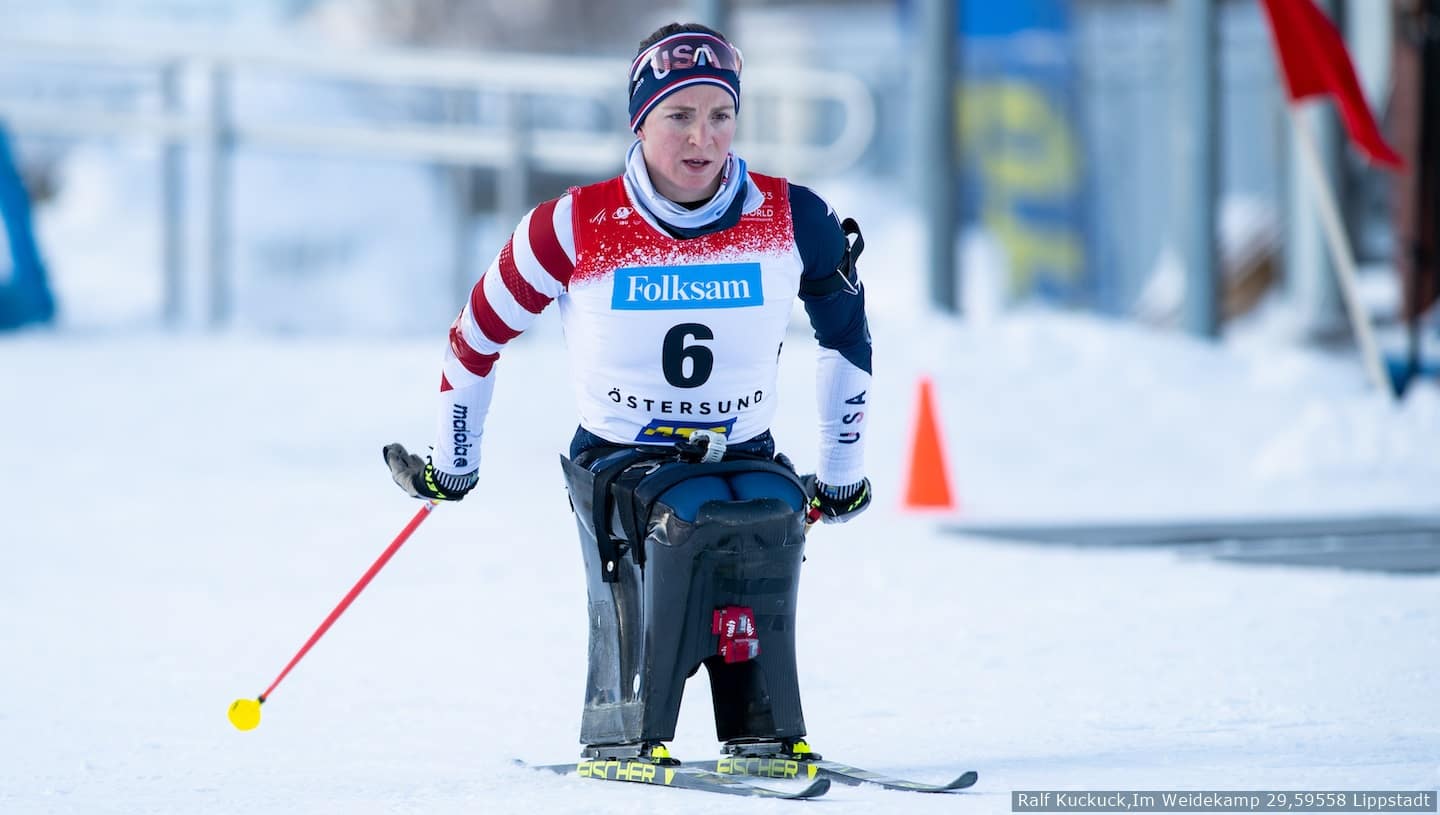 Kendall Gretsch competes at the 2023 FIS Para Nordic Skiing World Championships in Sweden. (Photo: Ralf Kuckuck)
Kendall Gretsch and Oksana Masters have built a friendly rivalry over the years.
Among the few athletes who have been able to stick with Gretsch, a five-time Paralympic medalist in Nordic skiing, has been her U.S. teammate Masters, the owner of 14 Paralympic medals in Nordic skiing.
And Masters continued to push Gretsch to be better in 2022-23, even as Masters missed the entire racing season with an injury to her left hand.
Gretsch recalled a practice before the world championships in January in Östersund, Sweden, when she looked to her side and was surprised to see Masters hanging with her, despite nursing the hand injury.
No matter how fast Gretsch skied, Masters was right there with her like her "little shadow," Gretsch recalled.
"I was like, 'Oh my gosh, I should be going faster. She's skiing one arm down, and I'm barely keeping up with her,'" said Gretsch, a Downers Grove, Illinois, native. "I think those little things, it makes practice fun, and I think it's beneficial for us as well."
Unlike the past few years, Gretsch didn't have Masters, the most decorated U.S. Winter Paralympian of all time, challenging her for gold medals this past season.
With Masters sidelined, Gretsch dominated the women's sit skiing division in her first season since winning three medals — a gold, a silver and a bronze — at the Paralympic Winter Games Beijing 2022.
In January, Gretsch medaled in all seven events she competed in over seven days at the world championships. She won six world titles, including in the biathlon sprint, the middle-distance biathlon race and the long-distance biathlon race.
"This year was a little bit interesting for me because obviously not having Oksana there was a big impact for me," Gretsch said. "I love racing with her and being competitive with her, and so not having her there was a big bummer for me this season.
"I was happy with how I skied and the performances, but I know it would've been different if she was there."
Less than two months after the world championships, Gretsch capped her impressive season by winning six golds at the world cup finale at Soldier Hollow in Midway, Utah.
Afterward, Gretsch was crowned the women's sitting biathlon overall champion. She finished the season third overall in the cross-country skiing standings.
"On the Nordic side of things, the biathlon is definitely my favorite of the events. It's something that I want to do well in and excel in," Gretsch said. "I was proud of my season for biathlon and just hoping to build off that momentum for next year."
Gretsch and Masters are among a select group of American athletes who have earned a gold medal at both the Winter and Summer Paralympics.
Gretsch won the paratriathlon at the Tokyo Paralympics, then turned around six months later and medaled in all three of her biathlon events in Beijing.
Following the Winter Paralympics in 2022, she felt comfortable making a change to her training plan. She decided to join six-time Paralympian Aaron Pike, another national teammate, in training at different locations around the country.
Gretsch and Pike spent part of the offseason working out at Bozeman, Montana, where U.S. Paralympics Nordic Skiing is based. They also trained in Sun Valley, Idaho, and at Soldier Hollow.
"That was definitely different from past years, just trying to get an idea of what different training options are available to us in the U.S. and what are the benefits of those different areas that we have available to us," Gretsch said.
Of course, her competitive nature came out while training alongside Pike.
In an attempt to shave a few seconds off his times, Pike decided to shoot faster than usual every time he went to the range to practice for the biathlon. Gretsch naturally wanted to keep up with him.
"I would say for sure I was feeding off of him for shooting speed," Gretsch said. "We did a lot of practices where we would come into the range together, and I think he knew that it would drive me crazy if I knew he was one shot ahead of me.
"So he would come down and I think he was shooting as fast as possible, and then that would cause me to want to shoot faster to try to catch up to him."
As soon as the skiing season ended in early March, Gretsch took a week off to enjoy a short vacation. She then got back to training for the paratriathlon.
As usual, Gretsch won't get much of a rest in between the two sports. She's scheduled to compete in her first triathlon of the season in May.
"Last year after… the double between Tokyo and Beijing, I really took some more time where it was just unstructured training, which at that point last year I really needed it," Gretsch said. "Comparing that to this year, I was ready to go."
Alex Abrams has written about Olympic and Paralympic sports for more than 15 years, including as a reporter for major newspapers in Florida, Arkansas and Oklahoma. He is a freelance contributor to USParaNordicSkiing.orgon behalf of Red Line Editorial, Inc.