Michael Kneeland Isn't Taking Anything For Granted While Continuing To Learn His Craft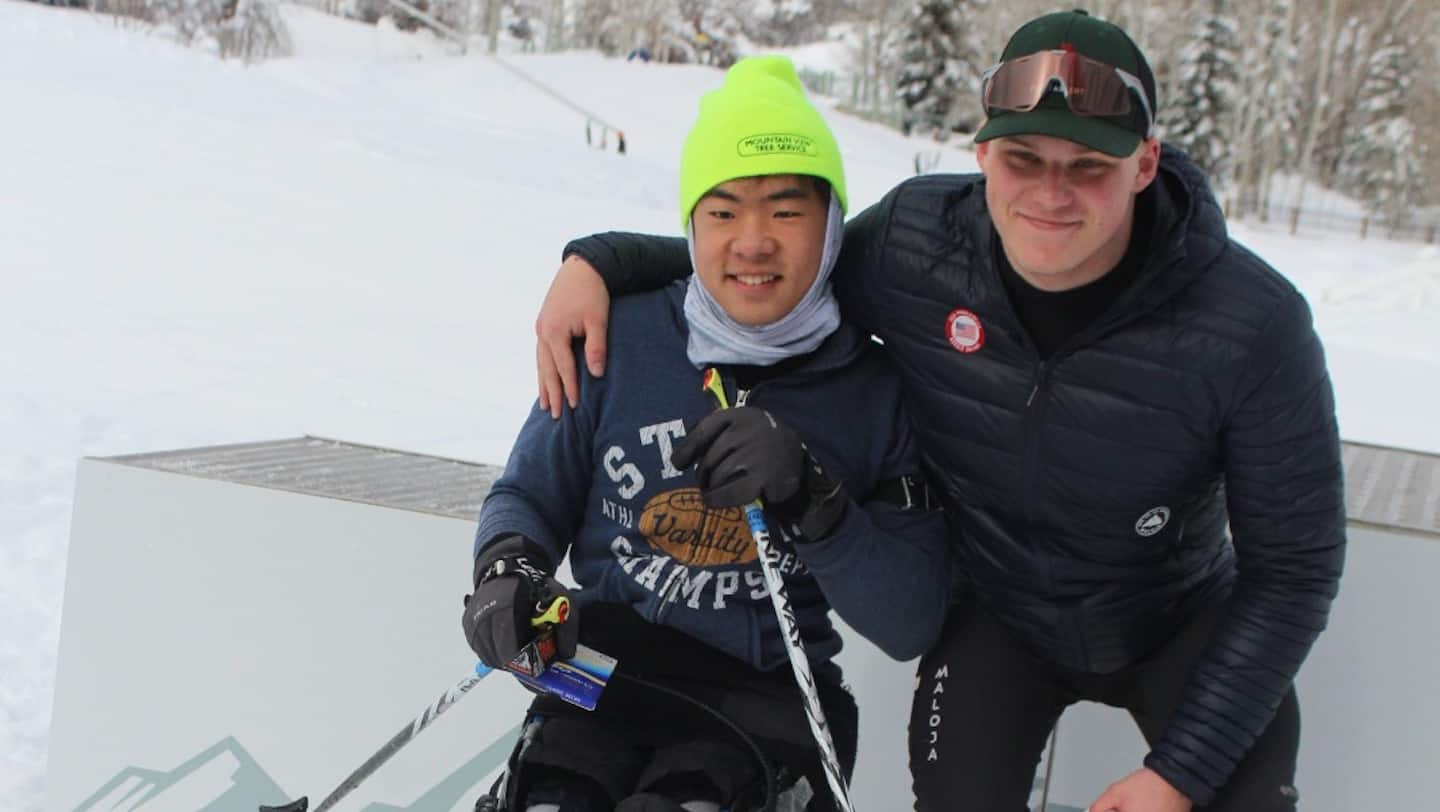 Michael Kneeland poses with Ty Wiberg at the 2023 U.S. Paralympics Nordic Skiing Sit Ski Nationals. (Photo: Utah Olympic Legacy Foundation)
When Michael Kneeland began trying out some adaptive sports a few years ago, none quite fit what he was looking for. Ultimately he was drawn to Nordic skiing in part, he said, because it isn't an "easy sport."
Once he got the seat figured out on his borrowed sit ski, Kneeland learned to embrace the hard workouts and long races that Nordic skiers take part in on a regular basis. The sport was challenging — in a good way.
The 17-year-old high school student is still learning how to sit ski. Only a few months ago, he started working with U.S. Paralympics Nordic Skiing, which is based in his hometown of Bozeman, Montana, and is just beginning to set goals for himself.
"For me, it's to be patient and just do my best and learn how to be thankful for the score that I get for the race and the result. Just learning from other sit skiers how to maneuver around the corners and stuff like that," Kneeland said. "It's learning how to ask questions and how to really get involved with other sit skiers."
The teenager was born in China with a rare condition in which his legs grew around 18 inches and then stopped growing. He can walk with prosthetic legs if he uses crutches, but Kneeland said his goal is to someday walk on his own without any aid.
He wasn't able to play sports as a kid while growing up in a Chinese orphanage. But after Kneeland was adopted and moved to the U.S. at age 12, he gave handcycling, wheelchair taekwondo, wheelchair basketball and alpine skiing a try.
After all of those trials, he was then introduced to Nordic skiing.
Kneeland said he enjoyed the challenge that sit skiing posed, "just the workout, the intensity of being fast and using your own body's strength to climb the hill or be fast in the race. So that's why I like the challenge, and (I) just try to use what I have and try to be good."
Eagle Mount, an organization based in Bozeman that helps individuals with disabilities participate in outdoor activities, worked to get Kneeland a bucket seat so he could go cross-country skiing with his friends.
Kneeland has gotten more involved in the sport since getting connected last year with BethAnn Chamberlain, a development coach with U.S. Paralympics Nordic Skiing.
Paralympic hopeful Ty Wiberg is coaching Kneeland on how to shoot targets with an air rifle for the biathlon. It's one more thing for the teenager to learn.
"It was hard because this is technically my first year really getting into skiing, and I was not expecting that I'd need to shoot as well," Kneeland said. "So I was a little overwhelmed because I'm just learning how to ski well and how to use my body correctly, and now I'm shooting at the same time.
"So that's a little bit harder than expected. Other than that, it's great. I love it."
In early January, Kneeland competed at his first U.S. Paralympics Nordic Sit Ski Nationals in Midway, Utah. He participated in three biathlon and cross-country skiing races, and he got to see up close how fast more experienced sit skiers can move around on snow.
He also had the opportunity to hear their inspirational stories.
Kneeland said he was amazed to listen as Paralympians Dan Cnossen, Erin Martin and Josh Sweeney spoke about how they got involved in Para Nordic skiing and their level of commitment to the sport.
"It was great for me just being there and seeing those nationals and the best sit skiers that I didn't know at all," Kneeland said. "That was kind of cool."
Even though he's still new to Nordic skiing, Kneeland said he'd like to someday compete in the Winter Paralympics, perhaps in three years in Italy.
"I like the sport, but I know that making it to the Paralympic team takes a lot of hard work and a lot of time racing, trying to improve your time and points, on top of school and the other activities that I do," Kneeland said. "So right now, my goal is hopefully to, by 2026, be in the Paralympics. But other than that, my secondary goal would be to enjoy skiing and the nature (of being outdoors).
"It feels really encouraging seeing the other sit skiers because they have the same issues that I have, or the same conditions that I have, so it's nice to be around those kinds of people."
Alex Abrams has written about Olympic and Paralympic sports for more than 15 years, including as a reporter for major newspapers in Florida, Arkansas and Oklahoma. He is a freelance contributor to USParaNordicSkiing.orgon behalf of Red Line Editorial, Inc.