Experience And Practice Could Be Key For U.S. Skiers In Final World Cup Of The Season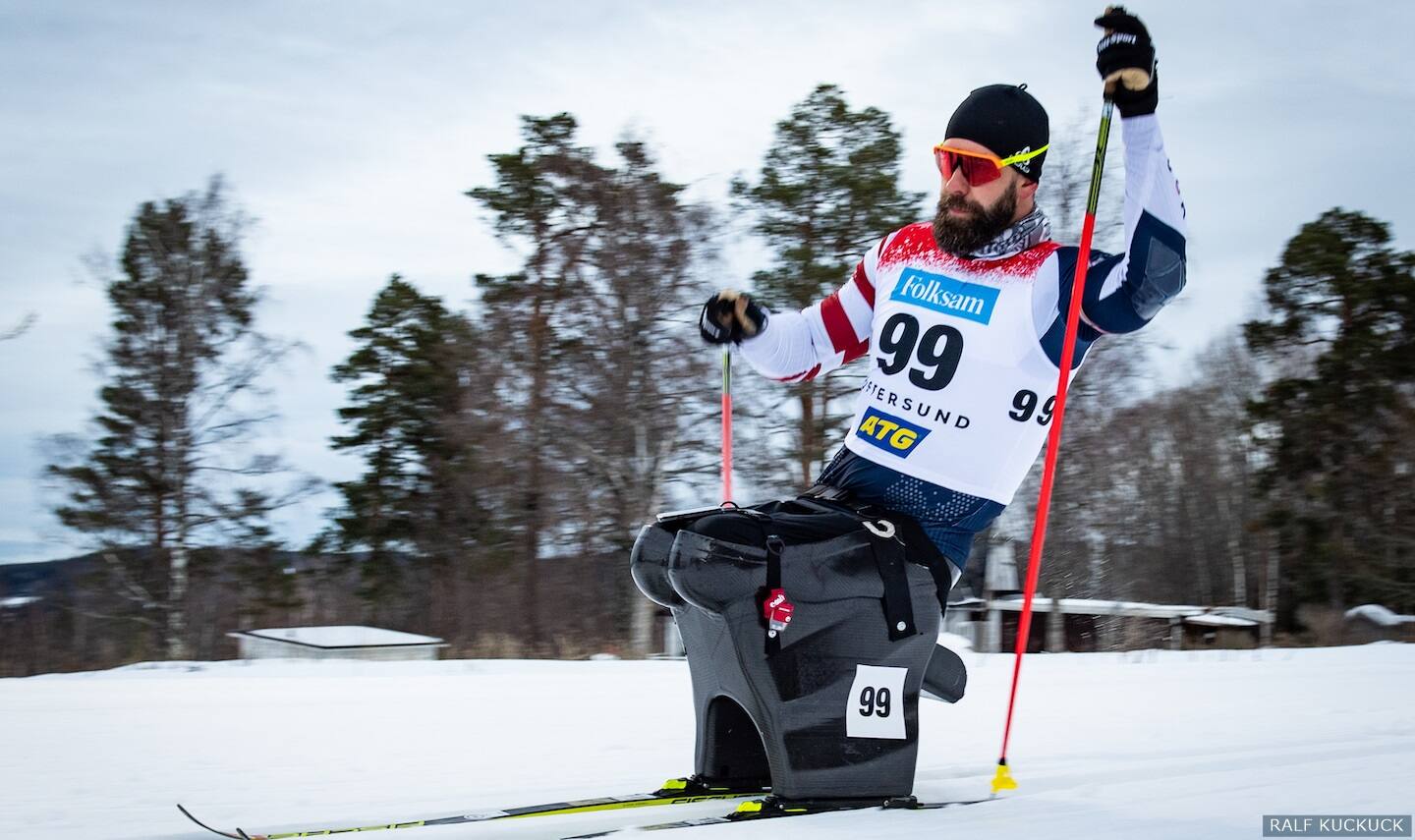 Aaron Pike competes at the 2023 FIS Para Nordic Skiing World Championships. (Photo: Ralf Kuckuck)
Aaron Pike, a six-time Paralympian, has become quite accustomed to cross-country skiing at Soldier Hollow in Midway, Utah. The Nordic center, which hosted events during the 2002 Olympic and Paralympics, has become a regular training base for American skiers.
Pike estimated he has skied around the turns at Soldier Hollow at least 50 times, maybe even 100, including in early January when he competed at the U.S. Paralympics Nordic Skiing Sit Ski Nationals. He earned a pair of second-place finishes, in the cross-country sprint and men's 5K, at nationals, and has gotten even more chances for runs at Soldier Hollow over the past few weeks.
His experience as Soldier Hollow has helped him learn where all the twists and turns are on its courses.
That should give Pike and his U.S. teammates a leg up in the final world cup event of the season, which will be held in Midway from March 1-8. It's an event many of the U.S. coaches and athletes have been looking forward to since this season's schedule was announced last year.
"It's pretty cool that we're already at the venue that we're going to be competing at, which is super unique," Pike said from Soldier Hollow. "Usually, you get to wherever you're competing like three days, four days before. You get to ski up there three or four times before you go compete."
This world cup event is also unique simply due to its location. Eileen Carey, director of U.S. Paralympics Nordic Skiing, said the U.S. hasn't hosted a major Para Nordic skiing event since the 2015 world championships in Cable, Wisconsin.
Carey said U.S. Paralympics Nordic Skiing has looked hard for opportunities to train and race at Soldier Hollow this season. They made it a priority to get on snow there.
"It's always exciting to compete at home in a place where family and friends can support our athletes," Carey said. "To be in a venue and on courses that are so familiar to our athletes is unique and can be a great advantage and confidence-builder."
All but three of the skiers who competed for the U.S. at the Paralympic Winter Games Beijing 2022 are scheduled to race in March at Soldier Hollow. The list of competitors includes seven-time Paralympic medalist Dan Cnossen and two-sport gold medalist Kendall Gretsch.
"For many of our athletes, these races will be the final Nordic competitions of the season, so it is always a hope to end on a note that inspires motivation for the training season," Carey said. "We won't have this level of racing again until December 2023 or January 2024, so as important as these races are for their own sake, they can also be a great way to keep the motivation high for the long summer and fall of training."
This final world cup event of the season comes just over a month after the Americans enjoyed a strong showing at the world championships in Östersund, Sweden.
Pike, a Paralympian in both Nordic skiing and track and field, earned his first career world title when he won the men's sitting 12.5K biathlon in Östersund. Two days later, he helped the U.S. capture another gold in the mixed cross-country relay.
Gretsch, meanwhile, dominated the women's sit skiing division in Sweden. The five-time Paralympic medalist in skiing won a world title in all but one of the six individual biathlon and cross-country skiing events she competed in.
After leaving Östersund, Pike traveled to Ketchum, Idaho, for the Boulder Mountain Tour in early February. He then headed to Soldier Hollow.
Pike has gotten in more than two weeks of training at Soldier Hollow before the world cup begins. He said he has a familiarity with the courses there — down to the small details that could benefit him once the competition begins.
"You kind of manage your pacing better because you've been skiing on it every day, and I think there's a lot of little subtleties," Pike said. "If you punch it down this climb, you know how you'll feel when you have to climb up this next one.
"It's so familiar that you don't really have to think about it. You can kind of ski it blind."
Alex Abrams has written about Olympic and Paralympic sports for more than 15 years, including as a reporter for major newspapers in Florida, Arkansas and Oklahoma. He is a freelance contributor to USParaNordicSkiing.orgon behalf of Red Line Editorial, Inc.