Roundup: Stars are Out At Sit Ski Nationals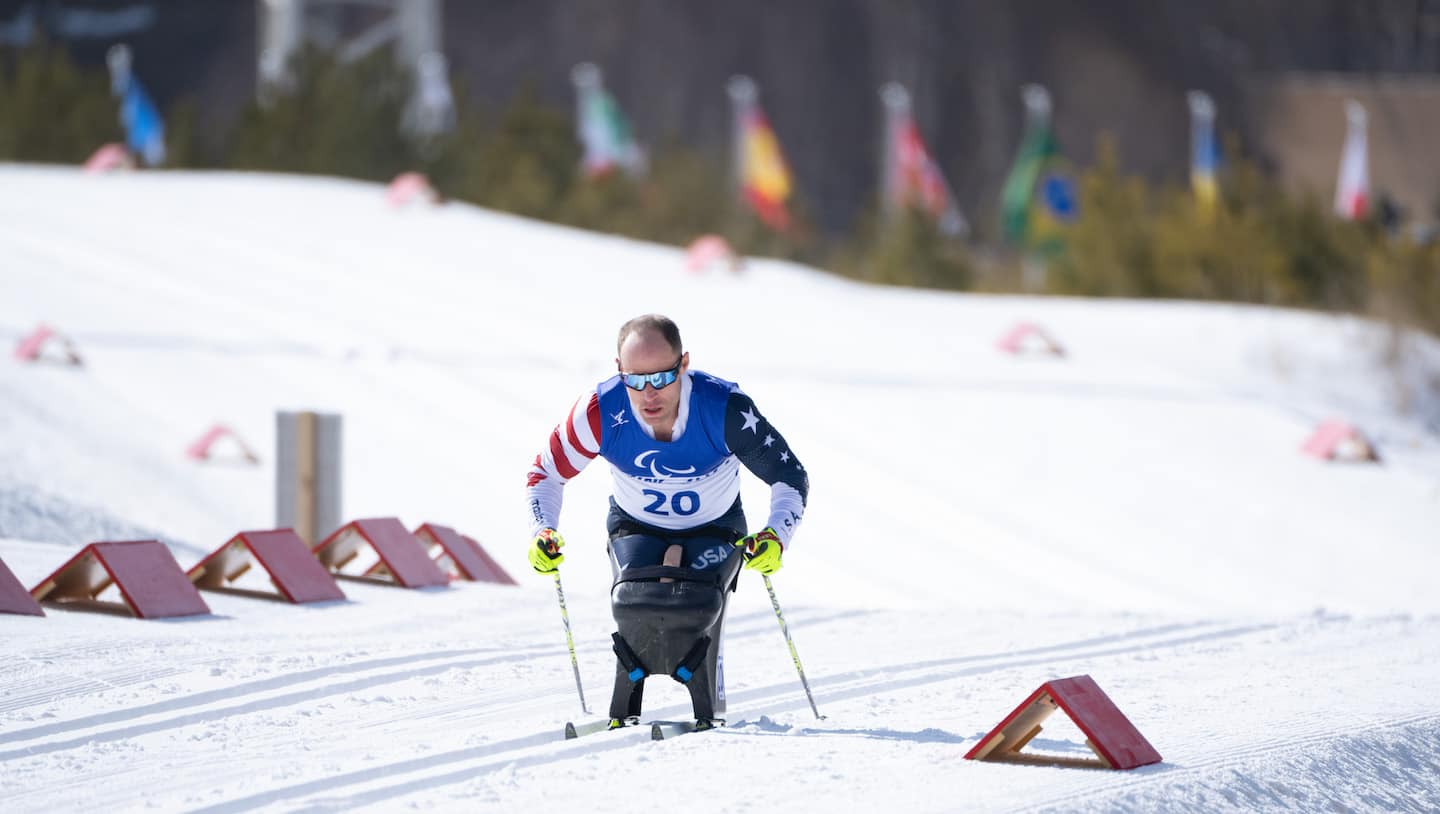 Every other week we scour the web for the latest going on in the world of U.S. Para Nordic skiing. Here's what you missed!
Dan Cnossen Stars In Sit Ski Nationals
Three-time Paralympian Dan Cnossen had a great time at Sit Ski Nationals in Midway, Utah, earlier this month. He won both cross-country races he competed in, which he attributed to his new training plan. He decided to no longer compete in the biathlon and train primarily for cross-country.
"I came here fresh this year, and I think it probably showed a little bit in the races," Cnossen told USParaNordicSkiing.org. "As I get into my 40s, I'm doing a little bit of a different approach to training, which is a bit more recovery and rest than I had done in the past."
Cnossen was among a number of American skiers who featured at this year's nationals. Six-time Paralympian Aaron Pike finished second behind Cnossen in the cross-country sprint, with two-time Paralympian Josh Sweeney in third.
A day after, Cnossen edged out Pike and Sweeney again for first in the men's 5K cross-country skiing race.
In the women's 5K race, Americans Erin Martin and Lera Doederlein finished second and third, respectively, behind Canadian skier Lyne-Marie Bilodeau. Both Martin and Doederlein made their Paralympic debuts in Beijing last year.
The 19-year-old Doederlein was impressive across all three of her races. Along with her third-place 5K finish, she finished second in the women's 7.5K sitting sprint biathlon and fifth in the cross-country sprint.
"Had three great races at @soldierhollow this past week at Sit Ski Nationals and I can't wait for more already!" Doederlein wrote on Instagram afterwards. "Thanks to our volunteers, team staff and @teamtoyota for always supporting me on my journey to become stronger and faster."
You can find the full list of results from nationals here.
Balancing Two Sports
Before the 2023 season kicked off in Utah, Lera Doederlein talked with TeamUSA.org about how she balances competing in both Nordic skiing and sled hockey.
"It's definitely been an exceptional learning curve for me to try to juggle … these sports," she said. "When I first started playing hockey, I never expected that it would turn into anything more than that. To now be … a dual-sport athlete, it's come with a lot of lessons."
Oksana Masters: Behind The Scenes
Oksana Masters, the most decorated U.S. Winter Paralympian of all time, has continued to post on Instagram in preparation for her memoir's publication date on Feb. 21. "The Hard Parts" will cover her journey from being raised in Ukrainian orphanages to where she is today.
Last week, the 17-time Paralympic medalist took to Instagram to post some behind-the-scenes pictures of her recording the audio book version of her memoir.
"Get ready to hear a Ukrainian/Buffalo New York/Louisville Kentucky accent, as I read parts of my story," Masters wrote on Instagram. "Fun fact, I've always dreamed of doing voice over for cartoon/animated movie. Sooo… I'm working on my studio voice."
Who knows, maybe this audio book will be the experience the skier needs to get into voice acting.
Challenged Athletes Foundation Expands Opportunities
On Jan. 10, the Challenged Athletes Foundation (CAF) announced an expanded lineup of new winter sports opportunities for 2023. CAF offers clinics and camps for Para athletes, including skiers and snowboarders, as well as doing fundraising for adaptive equipment.
CAF-Idaho is offering a number of these new camps in sled hockey, Nordic and alpine skiing and snowboarding. All are designed for various skill levels.
The event list begins with the Boise Winter Sports Weekend that will run Jan. 20-22. For the first time, this event will offer clinics in sled hockey and both Nordic and alpine skiing.