Gretsch, Pike go 1-2 in sprint biathlon to open the 2023 Para Nordic World Championships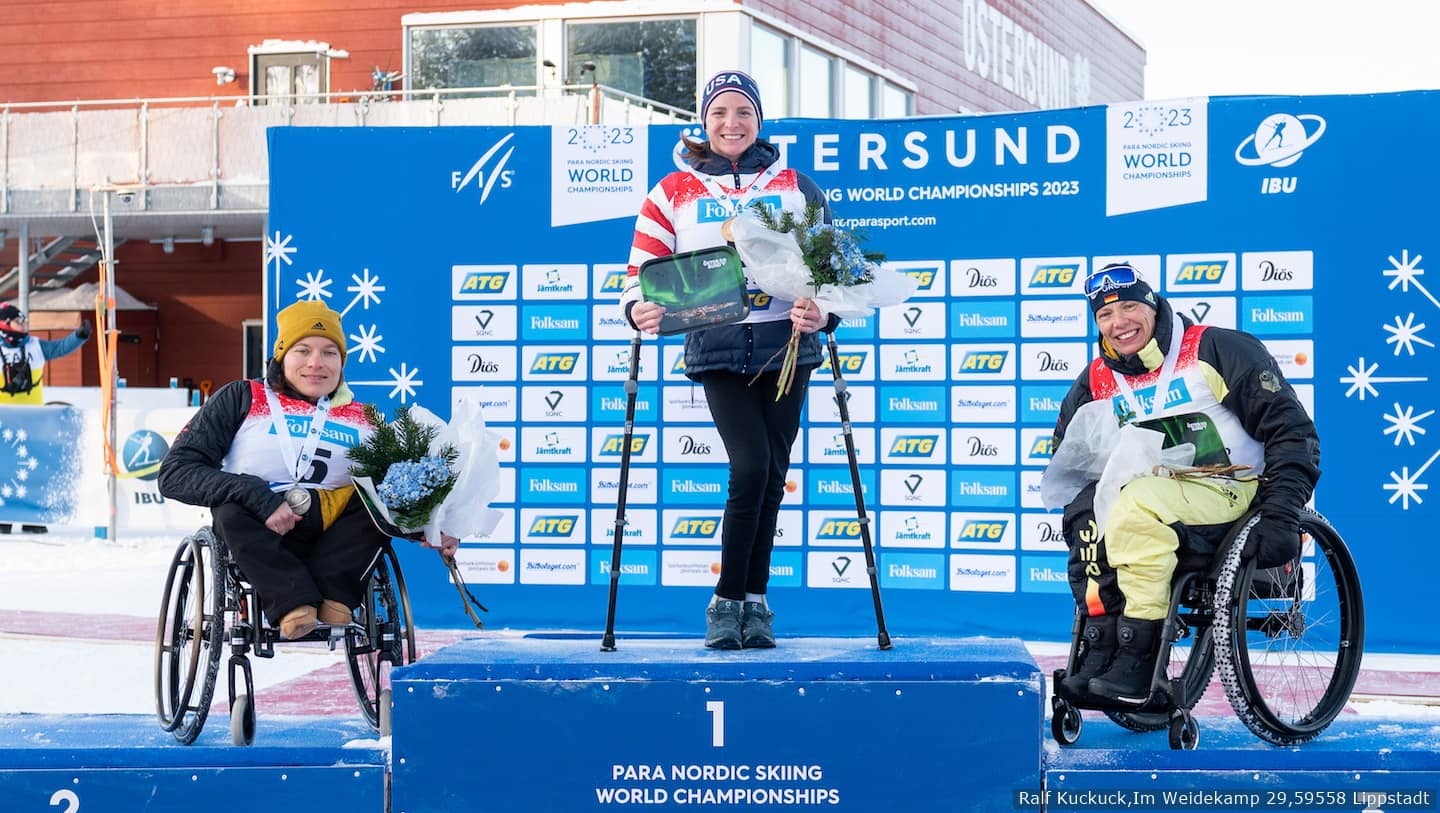 Kendall Gretsch poses for a photo on the podium after winning gold in Östersund. (Photo: Ralf Kuckuck)
ÖSTERSUND, SWEDEN – Dual-sport athletes Kendall Gretsch (Downers Grove, Illinois) and Aaron Pike (Park Rapids, Minnesota) wasted no time in their first international Para Nordic races of the season, earning gold and silver, respectively, in the 7.5-kilometer sprint biathlon races at the 2023 FIS Para Nordic World Championships. To round out the day for Team USA, two-time Paralympian Dani Aravich (Boise, Idaho) posted her best-ever finish in the women's standing race, finishing fifth to round out Team USA's day one results in Östersund, Sweden.
Because of event cancellations, U.S. Paralympics Nordic Skiing athletes have not yet competed on the international stage during the 2022-23 season. Sit skiers raced earlier in the month at the U.S. Paralympics Nordic Skiing Sit Ski Nationals, but haven't seen the competition from other countries until this week.
"I was a little bit nervous to get started racing because this is my first big race of the year," Gretsch said. "Shooting has been going really well in practice for me, so it was just trying to remember that and trust the process."
Gretsch utilized perfect 10-for-10 shooting to claim the eighth world championship title of her career. The six-time Paralympic medalist is coming off of a silver at the World Paratriathlon Championships in November and managed the transition between sports effectively en route to a dominant performance in today's women's sitting biathlon competition.
Despite a shortened preseason due to paratriathlon worlds, Gretsch's time of 27:24.5 was more than a minute faster than Paralympic medalist Anja Wicker of Germany, who finished in second.
"We had a really late worlds for triathlon this year, so I didn't get the same transition into the ski season as I normally would," Gretsch said. "But I do think that fitness from triathlon helped me prepare for this. I've been trying to use the last month or so to get back those ski muscles."
In similar fashion, Pike, also a track and field athlete, was competing in marathons up until the Para Nordic season began. Nevertheless, the six-time Paralympian captured his third career world championships medal today with silver in the men's sitting sprint biathlon.
Pike shot a clean 10-for-10 and finished behind only Canadian Colin Cameron to begin his world championships on a high note. His time of 24:54.4 edged bronze medalist Yerbol Khamitov of Kazakhstan by 13 seconds.
Like Gretsch, Pike also had a quick transition into the Nordic season. He said last season before the Paralympic Winter Games Beijing 2022, he was able to take his time with transition. This year though, he had the quickest shift between sports he's had in years.
"That was where most of the question marks were for me," Pike said. "I was worried I hadn't had enough time on ski. Just not having a whole lot of time to transition between sports, finding time for recovery was really important for me.
"I'm super stoked. I think my body has recovered and I'm hitting my stride at the right time, so I'm really happy."
In her second world championships appearance, Aravich just missed her first career podium, finishing fifth in 22:27.9. Aravich, who also competed in track and field at the Paralympic Games Tokyo 2020, recently announced her full-time commitment to Para Nordic, and the result showed today.
After shooting clean on her first lap, Aravich was in bronze medal position through the first four kilometers of the race. She incurred three penalties in the second round of shooting, but held on in the final lap of skiing for the top-five finish.
For Aravich, building confidence was key in her first international race of the season.
"Coming into this, I was nervous, I feel like I hadn't had the best preparation with some illnesses prior to this competition," she said. "Something I've been working on in biathlon is my confidence. Instead of hoping I can hit all the targets, knowing I can hit all the targets. I came in with that mindset and executed.
"I'm excited about how close I was to the pack, and to be in medal contention for half the race makes me really excited for the rest of the week."
The 2023 world championships continue Sunday with the first day of cross-country skiing racing kicking off at 9:30 a.m. local/3:30 a.m. EST. Follow U.S. Paralympics Nordic Skiing on Facebook, Instagram and Twitter for live updates from Östersund.
For media requests and photo inquiries, please contact Kristen Gowdy at Kristen.Gowdy@usopc.org.