Adicoff and Wood lead a Team USA medal hat trick on day three in Östersund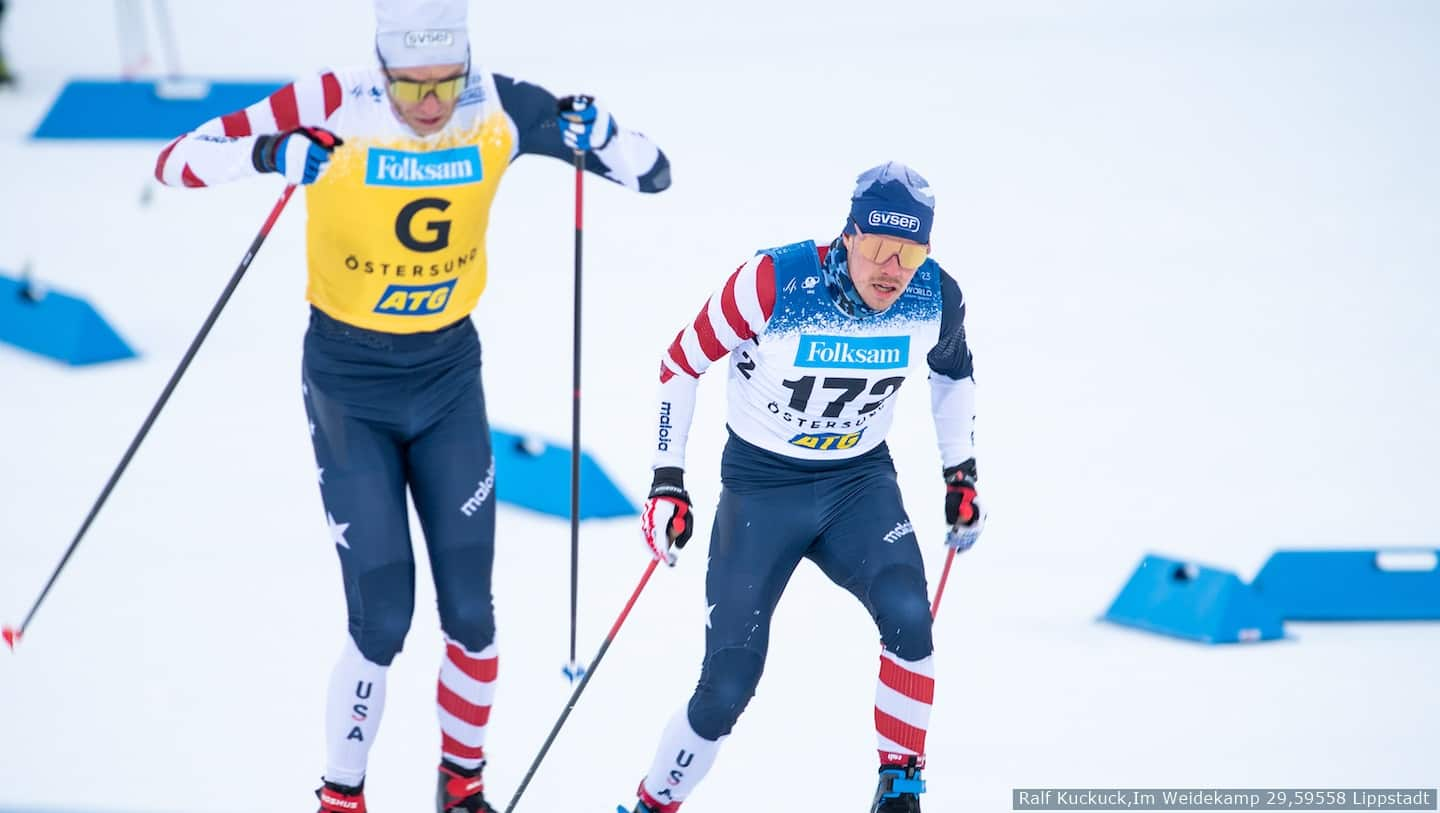 Jake Adicoff and Sam Wood compete in the cross-country sprint in Östersund. (Photo: Ralf Kuckuck)
ÖSTERSUND, SWEDEN – Four-time Paralympic medalist Jake Adicoff (Sun Valley, Idaho) and his guide Sam Wood (Harpswell, Maine) put an exclamation point on an already successful cross-country sprint day for Team USA by winning their first gold medal of the 2023 FIS Para Nordic World Championships. The victory in the men's visually impaired event gave the Americans a medal of each color on the day, as Kendall Gretsch (Downers Grove, Illinois) and Sydney Peterson (Lake Elmo, Minnesota) took silver and bronze, respectively, in the women's sitting and standing competitions.
Racing in the last final of the day, under steady rainfall, Adicoff was neck-in-neck with two other athletes heading into the final turn of the 1.2-kilometer race. In what would have been a result decided by milliseconds, Adicoff and Wood instead successfully avoided a collision between competitors on the straightaway into the finish line, giving them the gold by just over four seconds.
"We're feeling really good about this one," Adicoff said. "In the final, we had a plan to hammer from the beginning, to go hard and try to catch the groups up front. Things got really interesting toward the end, especially with that crash that we were very lucky to avoid. It was exciting to cross the finish line in first."
The win is Adicoff's second career world title – he also won the middle distance cross-country event at last year's world championships prior to hauling in three medals at the Paralympic Winter Games Beijing 2022.
Adicoff came out of retirement in the leadup to Beijing and has since been experiencing the most successful period of his career with Wood as his guide.
"I love this sport," he said. "To continue to have days like this is just icing on the cake for us."
Today's sprint gold follows a silver medal performance in Sunday's long distance cross-country race. The duo will next compete in middle distance cross-country on Saturday and also have the potential to appear as part of a Team USA relay team on the final day of competition.
Already a double world champion this week, Gretsch cruised through the women's sitting qualifying and semifinal, advancing first overall out of the preliminary round before winning her semifinal heat. In the final, she was edged by Aline Dos Santos Rocha of Brazil, who crossed the finish line just 1.29 seconds ahead of Gretsch.
"Sprinting is always such a fun race to do because it's our only race where we go head-to-head, which is exciting because anything can happen," Gretsch said. "We all came together near the top of the course in the final, it was super close at the finish, and I just ran out of space at the end."
The six-time Paralympic medalist has been dominant in Östersund, taking two golds and a silver thus far with three individual races and the potential to compete in a relay remaining. Gretsch is also coming off a silver medal at the paratriathlon worlds in November, which delayed the start to her Para Nordic season.
Peterson, meanwhile, surged to her first medal at the 2023 world championships, pulling off a dramatic bronze medal win by coming from behind in the final meters of the women's standing final. Trailing Liudmyla Liashenko in the last straightaway, Peterson dug in and inched ahead of the Ukrainian, earning her spot on the podium by .78 seconds.
"I'm super excited, that was such a fun race," Peterson said. "I was really just trying to stay up on my feet in that last sprint and was trying to get as low as possible going into it."
The 20-year-old St. Lawrence University skier is in her second season competing for Team USA after a stellar debut season that saw her win three world championship medals and three Paralympic medals in Beijing. The sprint is one of her best events – she won world championships silver and Paralympic bronze in the sprint races last season.
"Coming off of last year, I was really thrilled with how I did, but now with a year of training under my belt, I just was excited to see how things would shake out," she said. "It's really cool to see, and I'm definitely excited."
Just days after her best-ever world championships result, Dani Aravich (Boise, Idaho) advanced to the final of the women's standing sprint alongside Peterson, where she finished sixth in a competitive race. The two-time Paralympian continues her rapid improvement in the sport – her previous best finish in a sprint event was eighth in Beijing.
A former NCAA Division I track and cross-country athlete, Aravich is in just her third season of Nordic skiing. Östersund is her second career world championships appearance, and prior to this week, she had never placed higher than eighth in a major international competition.
After winning his third career world championships medal to kick off his Östersund campaign on Saturday, six-time Paralympian Aaron Pike (Park Rapids, Minnesota) advanced through the preliminary heats to qualify for the men's sitting semifinals. In a stacked semifinal heat that also included teammate and seven-time Paralympic medalist Dan Cnossen (Topeka, Kansas), Pike finished fourth with Cnossen right behind him in fifth, edging them out of the final.
Pike is slated to compete next in tomorrow's 10-kilometer biathlon race, while Cnossen, who made his Östersund debut today, will next race Saturday in the 10-kilometer cross-country event.
After three days of racing, the U.S. medal count stands at six, led by Gretsch's two golds and a silver. Adicoff has a gold and a silver, and Pike and Peterson have won silver and bronze, respectively.
World championships competition resumes tomorrow with the 10-kilometer biathlon race. Follow U.S. Paralympics Nordic Skiing on Facebook, Instagram and Twitter for live updates from Östersund.
For media requests and photo inquiries, please contact Kristen Gowdy at Kristen.Gowdy@usopc.org.