Dominant shooting propels Gretsch and Pike to repeat biathlon podium performances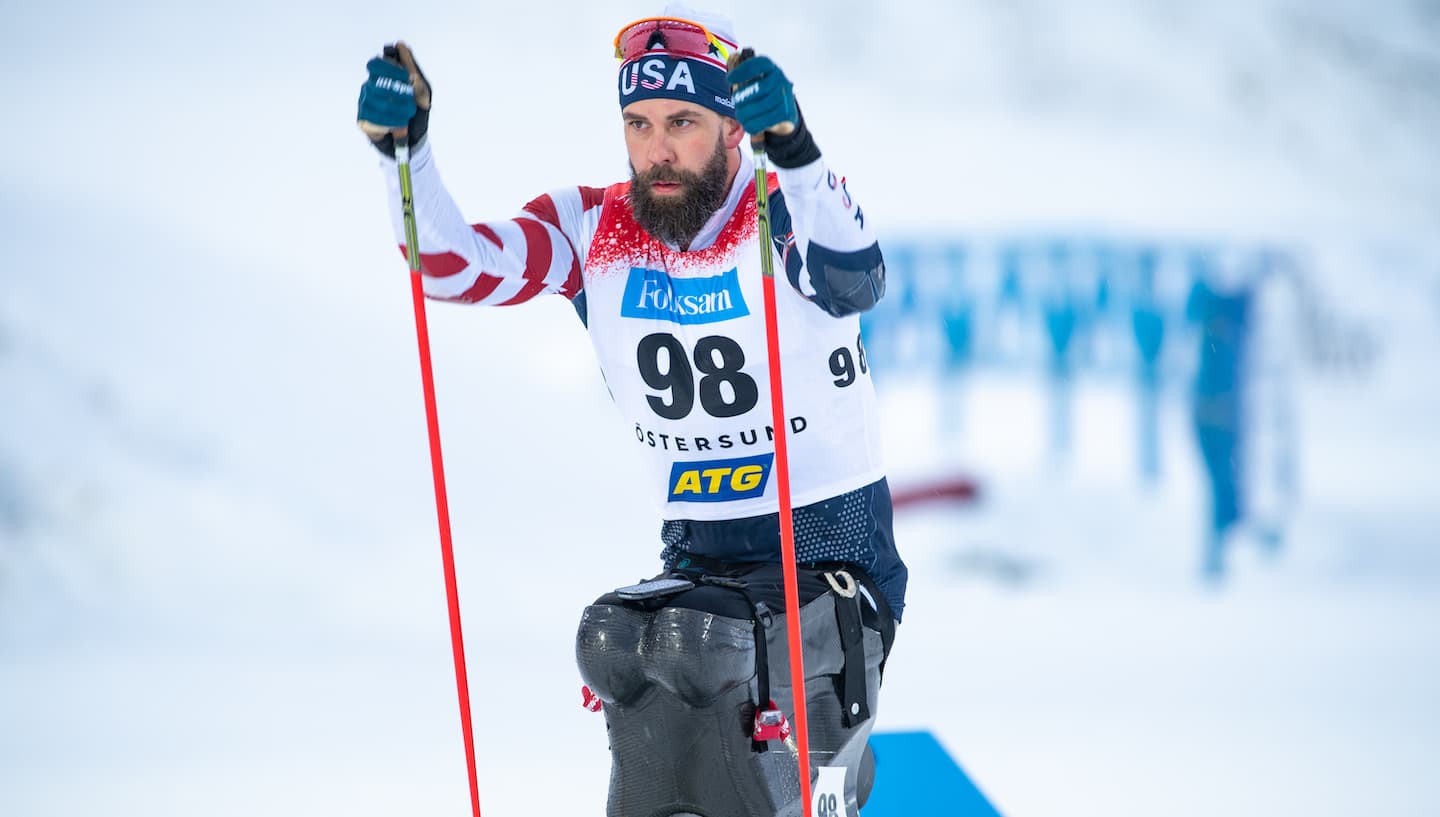 Aaron Pike competes in the 10-kilometer biathlon race in Östersund. (Photo: Ralf Kuckuck)
ÖSTERSUND, SWEDEN – In a mirror image of the opening day of the 2023 FIS Para Nordic Skiing World Championships, Kendall Gretsch (Downers Grove, Illinois) and Aaron Pike (Park Rapids, Minnesota) repeated as the women's and men's sitting gold and silver medalists, respectively. Between them, the Para Nordic veterans shot 39-for-40 on the day, resulting Gretsch's fourth and Pike's second medal of the competition.
For the second time this competition, Gretsch shot clean en route to a convincing victory. The six-time Paralympic medalist topped the women's sitting field by nearly four minutes, and every one of her competitors recorded at least one penalty.
Having earned four medals – including three gold – in Östersund thus far, Gretsch's mind was on American teammate Oksana Masters, who is not with the team at this competition.
Gretsch said she used Masters, a 17-time Paralympic medalist, as her motivation to keep pushing despite a comfortable lead over the pack.
"I think, especially in these longer races, I'm really thinking about Oksana," she said. "I know once she's back next year racing, it's going to be a really tight gap between us, and it's so much fun when the two of us are racing together. I think about her in the last couple of laps knowing that usually she'll be chasing after me or way ahead of me, so I'm thinking about that."
Today's 10-kilometer competition saw drastically different conditions than the event-opening 7.5-kilometer biathlon race last Saturday. Temperatures have been warming throughout the week, and rain yesterday has caused softer snow and icier conditions.
"It was a much different day today than it was three days ago," Gretsch said. "We had rain and warm conditions today, which makes it exciting because you have to ski differently."
Pike, meanwhile, is enjoying the most successful major international competition of his storied career. A six-time Paralympian in track and field and Nordic skiing, Pike has competed in eight world championships across his two sports. This is the first time he's taken home multiple medals in the same world championship competition.
Pike put together a consistent effort today, particularly in the second half of the race, when he shot perfectly and surged from fifth place to second in the final two laps. Pike missed only one shot in the four shootings on the day.
"I'm super happy with it," Pike said of his performance. "Even over 10 years of skiing, it's insane how you can learn something still. There are things that I'm doing on the range that are better than they've been the past nine years. There's always something to be found, especially in biathlon, and I'm still looking for those things."
Yesterday's women's standing cross-country sprint bronze medalist Sydney Peterson (Lake Elmo, Minnesota) competed in just her third career biathlon race and rounded out Team USA's results with a fourth-place finish.
Peterson, an established cross-country skier who is gaining experience in biathlon, still has one individual event left on her Östersund program, the middle distance cross-country race.
After a day off Thursday, Team USA athletes will return to the snow for the 12.5-kilometer biathlon race on January 27. Remaining competitions in Östersund include the 10-kilometer cross-country and the team relays. Follow U.S. Paralympics Nordic Skiing on Facebook, Instagram and Twitter for live updates from Östersund.
For media requests and photo inquiries, please contact Kristen Gowdy at Kristen.Gowdy@usopc.org.