Pike and Gretsch crowned 2023 long distance biathlon world champions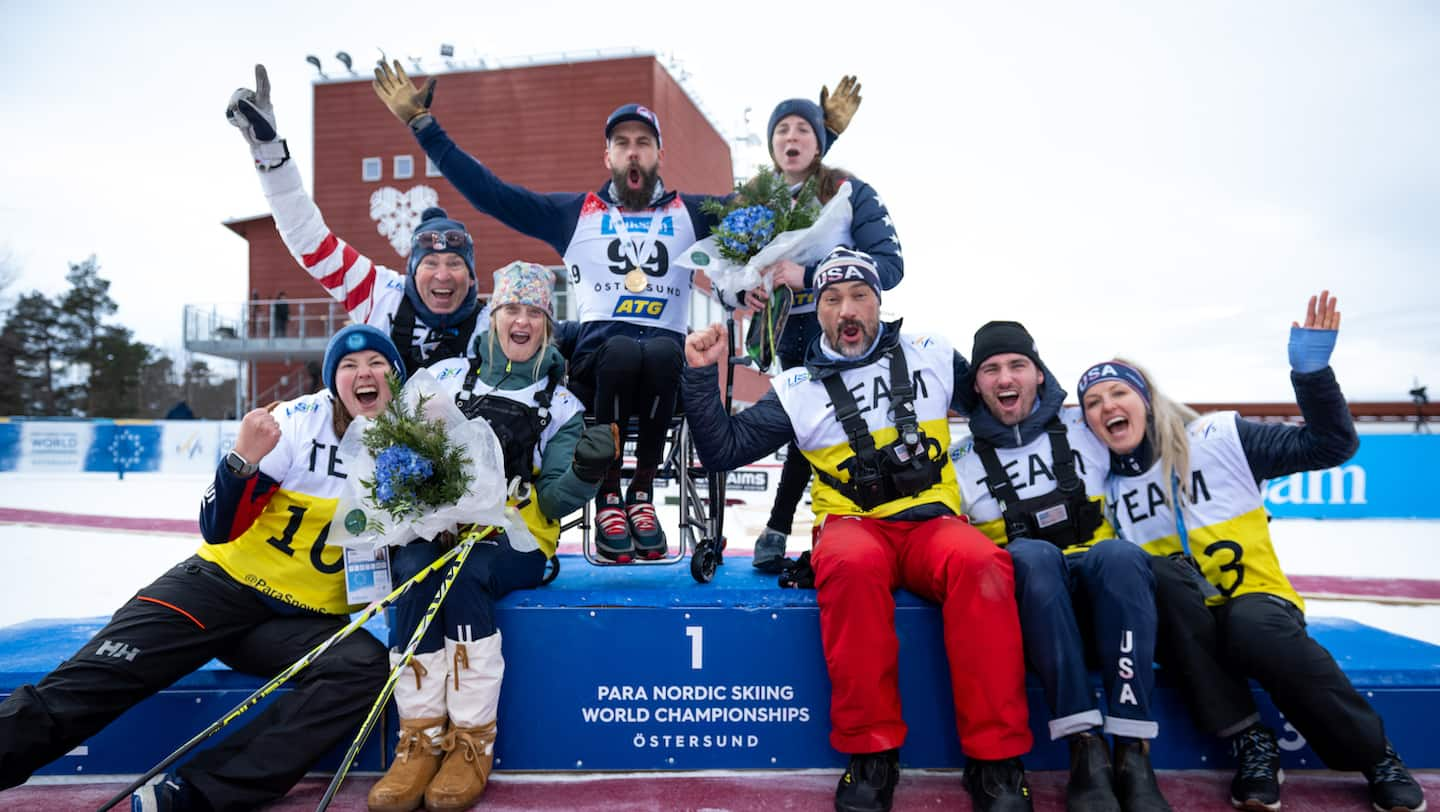 Aaron Pike and Kendall Gretsch pose on the top of the podium with members of the U.S. Paralympics Nordic Skiing staff. (Photo: Ralf Kuckuck)
ÖSTERSUND, SWEDEN – In an emotional fifth day of racing at the 2023 FIS Para Nordic Skiing World Championships, Aaron Pike (Park Rapids, Minnesota) and Kendall Gretsch (Downers Grove, Illinois) wrapped their biathlon programs with victories in the men's and women's sitting 12.5-kilometer individual biathlon races. Two-time Paralympian Dani Aravich (Boise, Idaho) skied well en route to a seventh-place finish in the women's standing race to cap Team USA's results.
For Pike, a six-time Paralympian who is competing in his eighth world championships across Para Nordic and track and field, the gold medal marked his first world title. He has previously appeared on the worlds podium four times for Team USA – including two silvers this week – but had not yet topped the field in a major international competition.
That changed today, as Pike utilized 19-for-20 shooting and held the lead for the majority of the race, topping British skier and his good friend Scott Meenagh by just 6.1 seconds. Sharing the podium with Meenagh, who earned the first worlds medal of his career, made the win extra sweet for Pike.
"I'm so psyched," he said. "I was really motivated to get on the podium with Scott, I knew he was in the mix as well given how well he shot. I had no idea we were fighting for a championship, I was pumped to cross the line and find that out."
Topping the podium had been a long time coming for Pike, who has been a staple of the Para Nordic program since making his Winter Paralympics debut in Sochi in 2014. He has not missed a single world championships or Paralympic Games since, despite also competing at the highest level for the U.S. Paralympics Track and Field program.
A decade into his career, he is having his best-ever performance on the elite international stage in Östersund.
"It's awesome," he said. "It's all about the people you get to share it with."
Gretsch continued her dominance in Sweden, capping her biathlon events with perfect 50-for-50 shooting on the week that culminated in her third consecutive biathlon world title. The six-time Paralympic medalist added the 11th world title to her resumé today, and her fourth in Östersund.
In five days of competition, Gretsch, who has had a packed race schedule, has five medals. Her only silver came in the cross-country sprint.
Today, aided by another day of perfect shooting, she topped the women's sitting field by six and a half minutes, her largest margin of victory thus far.
"I'm excited about this one," she said. "Being able to finish off the week with perfect shooting is always a plus. This has been a good way to start the year after the Games, and hopefully it'll lead to more in the future."
Sharing the top of the podium with her longtime teammate Pike, Gretsch said, made today's win more meaningful.
"I'm so excited for him," she said. "I've skied with him for so long now, and I've learned so much from him, especially with turning. He's like the master of maneuvering and is so good in the range. It's pretty cool to be able to watch him get his first world title."
Aravich, who, in her second world championships competing for Team USA, has shown consistent improvement from last season, placed seventh in her final biathlon competition of the week. Aravich has recorded career-best finishes of fifth, sixth and seventh in her races this week – her previous best finish on the world stage was eighth.
The 26-year-old is still relatively new to skiing, and especially to biathlon, where her five shooting penalties were the difference today in a tight women's standing competition.
Five of the seven Team USA athletes will return to the snow tomorrow for middle distance cross-country, the final individual race of the 2023 world championships. Competition will conclude with Sunday's relay events. Follow U.S. Paralympics Nordic Skiing on Facebook, Instagram and Twitter for live updates from Östersund.
For media requests and photo inquiries, please contact Kristen Gowdy at Kristen.Gowdy@usopc.org.