Relay gold medal caps 2023 world championships for U.S. Paralympics Nordic Skiing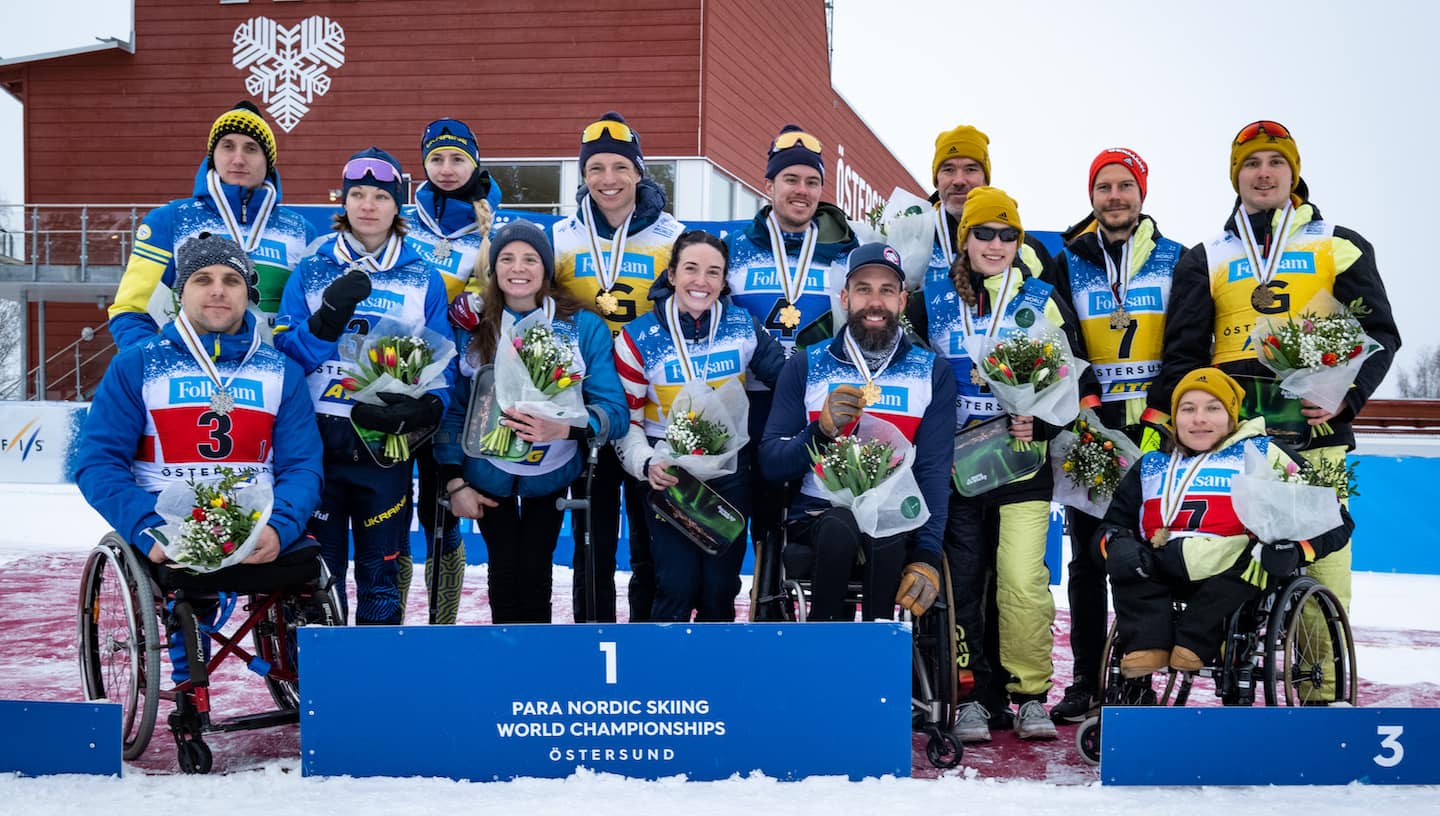 Team USA on the mixed relay podium with silver medalists Ukraine and bronze medalists Germany. (Photo: Ralf Kuckuck)
ÖSTERSUND, SWEDEN – In a race reminiscent of the Paralympic Winter Games Beijing 2022, Team USA capped the 2023 FIS Para Nordic Skiing World Championships with a come-from-behind victory in the mixed 4x2.5-kilometer relay. The gold medal was the eighth of the event for the Americans, who also earned five silver and two bronze in the weeklong competition in Östersund, Sweden.
The medal propelled the U.S. into second place in the overall medal standings,
Just like in Beijing last March, it was Jake Adicoff (Sun Valley, Idaho) and guide Sam Wood (Harpswell, Maine) who anchored the U.S. squad. After beginning their leg in fourth place, Adicoff and Wood sprinted to pass Canada and Germany before eking by Ukraine in the final straightaway to win the race by 4.5 seconds.
Ukraine ended up with the silver medal while Germany finished in third.
"This skied fairly similar to Beijing," Adicoff said. "We came into our leg with a deficit, but we knew that was going to happen. We fought in the beginning and really just pedaled through the 2.5k."
Adicoff and Wood ended their Östersund campaign with four medals – two golds and two silvers.
Handing off the relay to Adicoff and Wood was Kendall Gretsch (Downers Grove, Illinois), who earned her sixth world title of the week with a strong third leg of the race for Team USA. Gretsch has put together the most successful major international competition of her career, winning seven medals in seven days. Many of her victories were by large margins. She also shot 50-for-50 on the biathlon range this week.
Two-time Paralympian Dani Aravich (Boise, Idaho) raced the second leg of today's relay for Team USA and in doing so became a world champion for the first time. In just her third year on skis, the former track and field athlete has shown great improvement this season and brought home three top-eight finishes in her individual competitions in Östersund. This is also the first major international medal for Aravich.
"It's really exciting to have won with the four others on this team," Aravich said. "It's always been my hope to be a part of this. I think that winning a team title for my first medal is super special and something I'll always remember. It makes me extra motivated to try to get an individual title."
Leading off the race was six-time Paralympian Aaron Pike (Park Rapids, Minnesota), who won the second world championship gold medal of his career. Another Team USA athlete who had the best international performance of their career in Sweden, Pike brought home two golds and two silvers, and became a world champion for the first time in his 10-year career.
To kick off the morning, Team USA's Sydney Peterson (Lake Elmo, Minnesota) and Dan Cnossen (Topeka, Kansas) teamed for a ninth-place finish in the open 4x2.5-kilometer relay. Despite many of the other countries in the race fielding teams of four, Peterson and Cnossen fought hard, each racing two legs of the relay.
Peterson, a three-time Paralympic medalist, has secured two bronze medals on the week to add to the three world championships medals she won at last year's worlds in Lillehammer, Norway. Cnossen's best finish of the week was seventh in yesterday's middle distance cross-country race.
Team USA's next major competition will be on home soil at the world cup in March in Soldier Hollow, Utah. Follow U.S. Paralympics Nordic Skiing on Facebook, Instagram and Twitter for the latest news and updates on the team.
For media requests and photo inquiries, please contact Kristen Gowdy at Kristen.Gowdy@usopc.org.