Aaron Pikes First Nordic World Title Was 12 Years In The Making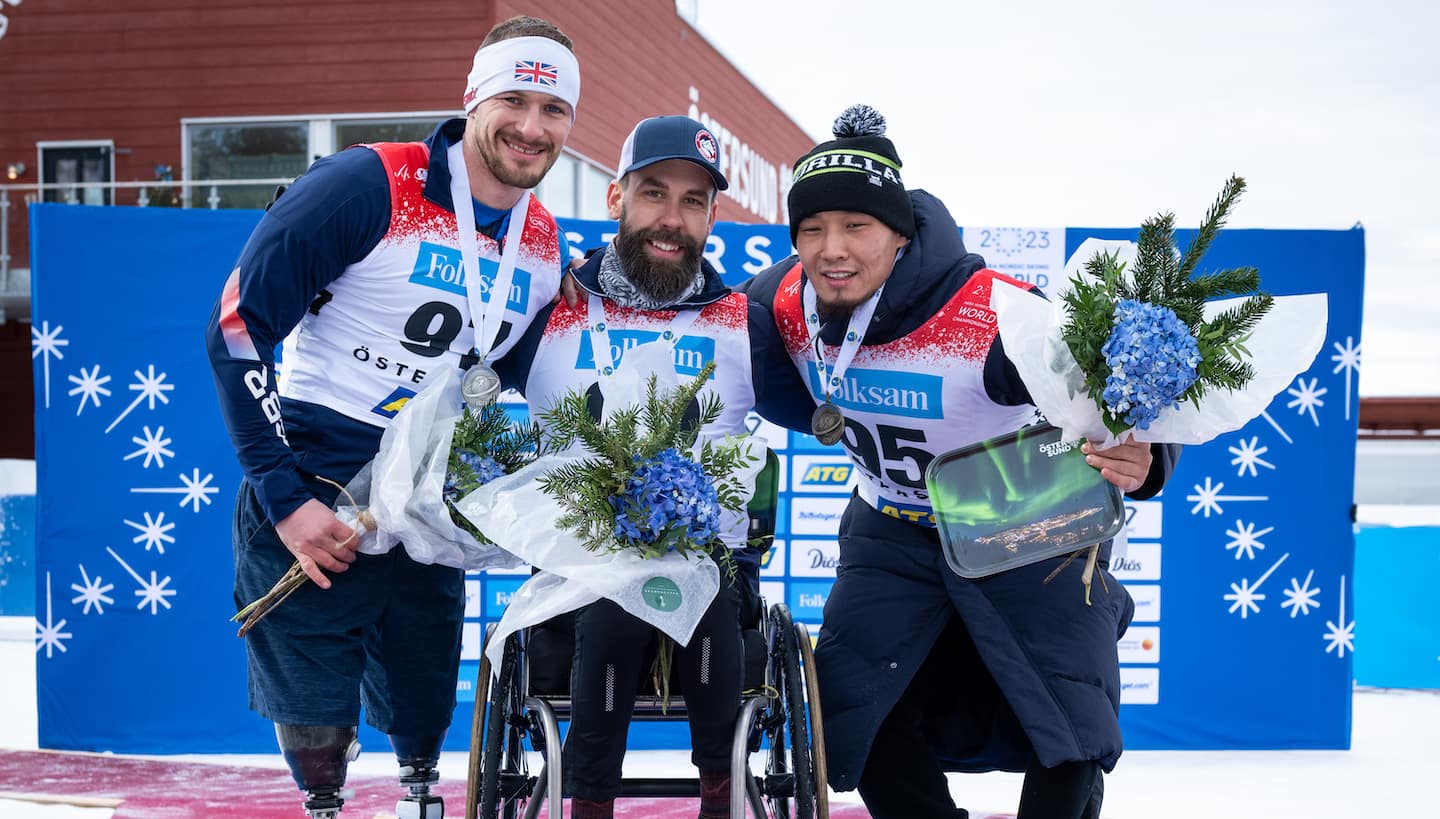 Aaron Pike on the podium in Östersund. (Photo: Ralf Kuckuck)
Heading into the final lap of the men's sitting 12.5-kilometer biathlon at the Para Nordic skiing world championships in Östersund, Sweden, Aaron Pike thought he heard one of his coaches say he was in fourth place.
Pike figured he'd need to pick up the pace if he wanted to earn a spot on the medal podium. To make up ground, he started skiing as hard as he could down the stretch.
As it turned out, the six-time Paralympian had misinterpreted what his coach had told him. Pike wasn't fighting for third place. Rather, he was in position to take home a gold medal.
His coaches were "going nuts" as he approached the finish line. To Pike, who still thought he was vying for the bronze medal, their excitement didn't make any sense.
"Everybody was screaming and cheering me on. There was this kind of extra bit of excitement," Pike said, laughing. "It did seem like a bit much for a third place because I've gotten a couple of silvers before that, and I wasn't seeing that kind of enthusiasm."
Pike didn't find out he had won the first world title of his career until a few minutes after he crossed the finish line on Jan. 27.
The Park Rapids, Minnesota, native has spent the past decade competing in both Nordic skiing and track and field. He entered his first track and field world championships in 2011, and over seven world championships in the two sports he had earned two medals, a silver and bronze, in biathlon. He finally got to accept the gold in Sweden.
"When they are done handing out the medals to each athlete and they play the national anthem, you kind of have flashes of all the people that have had my back and supported me," said Pike, who turns 37 on May 4. "I have been fortunate to have so many people play a part in my development as an athlete."
Two days later, Pike earned his second gold in Östersund when he skied the first leg and helped the U.S. win the mixed 4x2.5K relay. He also took home a pair of silver medals.
"I wasn't anticipating getting two silvers and two golds, but it wasn't something that I didn't think I could do either. I always think it's possible to win a race," Pike said. "I'll sit out a race if I don't think that's the case. I always thought it was a possibility, but I wouldn't say it was what I was setting out to do when I left to go for Sweden."
The four medals capped off a 12-month period that has been full of milestones for Pike.
Last March, he competed in the Paralympic Winter Games Beijing 2022, his sixth Paralympics overall, and third Winter Games. He earned three top-10 finishes but didn't medal.
As soon as the Games in Beijing ended, Pike transitioned from Nordic skiing to track and field and competed in the Boston Marathon last April. He took second in the men's wheelchair division, then finished third in the Chicago Marathon in the fall.
As if that wasn't enough, Pike got engaged to Oksana Masters, his longtime girlfriend and U.S. Para Nordic skiing teammate, over the summer.
"I don't think I've even sat down and really thought about all the events that have kind of happened over the past calendar year honestly," Pike said.
In Östersund, Pike was able to take advantage of a major change he had made in the offseason. He had decided to shoot faster than usual every time he went to the range to practice for the biathlon. No matter if he hit or missed his targets, he tried to keep his pace up with his air rifle.
Pike said he was never considered a slow shooter, but he was both accurate and even faster at the world championships. He said he got it down to where he could ski into the range, drop down to the mat, hit all five targets, and get back to skiing in around 26 seconds.
"To me, fast is usually around 30 seconds, and I think I was under 30 seconds every range (at the world championships). And most people are well over 30 seconds," Pike said. "Even some of the guys that are really good are closer to 40 seconds."
Pike hit 19 of 20 shots during the 12.5K biathlon, but he thought he had blown his opportunity to medal after he was penalized for missing that one shot. That was why he believed he was closer to third place than first heading into the final lap.
Pike said he was excited to learn after he crossed the finish line that not only had he won, but that his close friend, British skier Scott Meenagh, had earned the silver. Pike and Meenagh have trained together over the years and regularly stay in touch.
"As soon as I saw I'd come in first and Scott was second, I went flying to find him and congratulate him," Pike said. "I couldn't have asked for a better way to win my first gold at the world championship level."
Pike, however, wasn't able to celebrate in-person with Masters, as he usually does after a race. She had stayed in the U.S. to undergo surgery to repair an injury to her left hand.
Pike said not being able to share the moment with Masters was tough.
When a media member asked him how it felt to win his first world title, Pike said he immediately thought about how Masters wasn't there with him and started crying.
"I was just trying to get myself together because I was definitely bummed that she wasn't there," Pike said. "I knew that she would've loved to have been there because she would've been my biggest fan for sure if she was there, jumping on the sit ski, like climbing all over me. I told her she probably would've given me a black eye."
As soon as Pike got out of his sit ski, he went indoors, grabbed his cell phone and called Masters. She was screaming into the phone and going crazy over his win.
Alex Abrams has written about Olympic and Paralympic sports for more than 15 years, including as a reporter for major newspapers in Florida, Arkansas and Oklahoma. He is a freelance contributor to USParaNordicSkiing.orgon behalf of Red Line Editorial, Inc.