Ruslan Reiter Is Always Aiming For New Heights, Sometimes In The Most Literal Fashion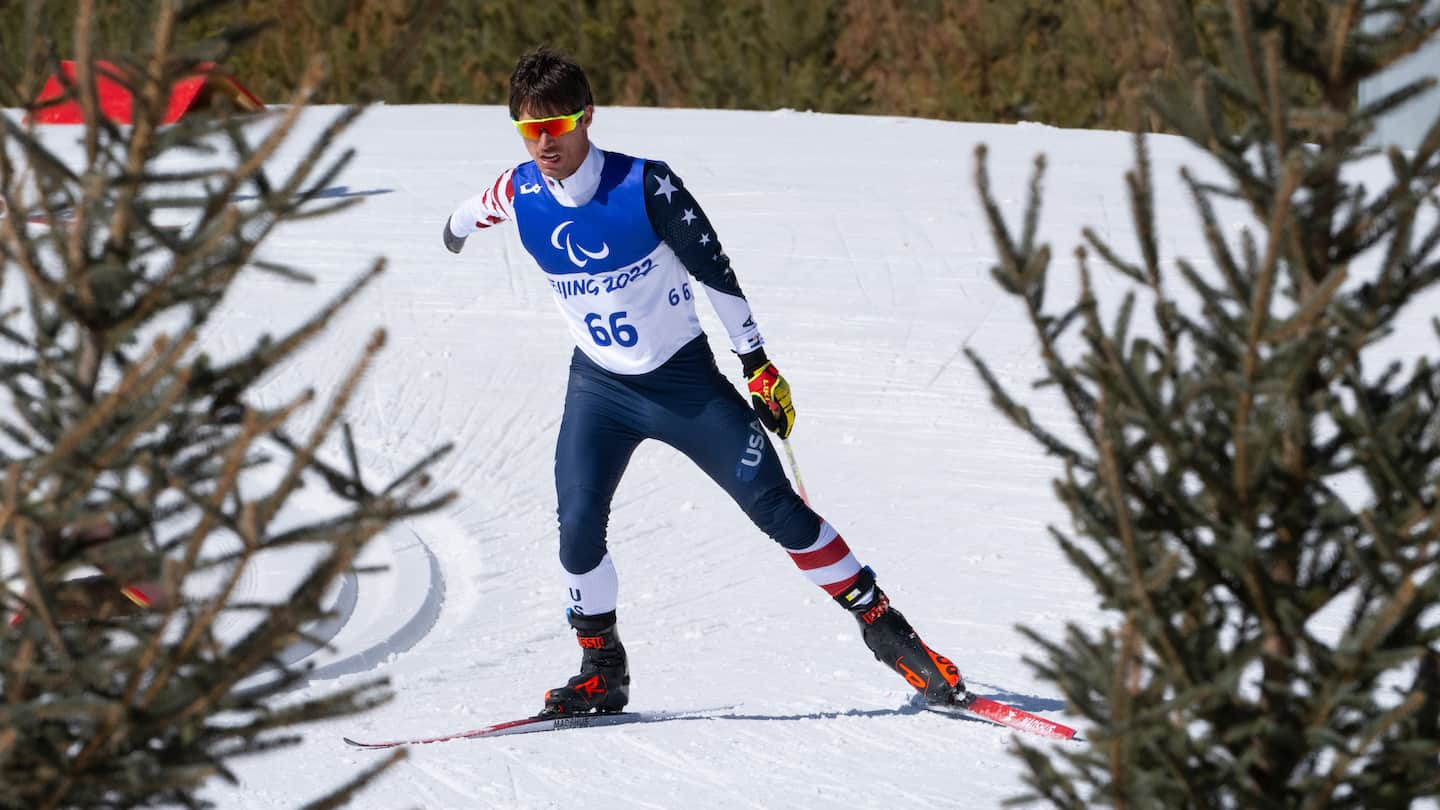 Ruslan Reiter competes at the Paralympic Winter Games Beijing 2022. (Photo: Mark Reis)
En route to the Paralympic Winter Games Beijing 2022, Nordic skier Ruslan Reiter had a life-changing encounter. When boarding a connecting flight with his U.S. teammates at Salt Lake City International Airport, Reiter encountered a pilot who had the same disability as him.
"This pilot walked up to us and saw all our disabilities and started chatting with us," Reiter said. "He showed us his disability and basically had the same hand disability as I did, but it was on his left hand instead of his right. It was cool to see another pilot with the same disability I have.
"If he can do it, I can do it."
Reiter, who was on his way to his second Paralympics in Beijing, was starting to tell him that he wanted to become a pilot one day when the airman had to quickly rush away to catch his flight. Reiter didn't catch his name or have a chance to go into his career aspirations, but he was still thankful for that precious moment.
One year later, Reiter has been accepted to flight school. He will be enrolling in Gallatin College's aviation program in August in Bozeman, Montana, where he currently trains year-round in Nordic skiing.
"That's the perfect career for me," Reiter, who turns 24 on April 5, said. "I've been interested in airplanes since sixth grade, and I've always thought it would be fun to be a pilot. I got into remote control flying, and then gradually I got more interested.
"It all started back in elementary school, I was first really into dinosaurs and thought I wanted to be a paleontologist, but my dad had all these books on airplanes and World War I and World War II, and once I started looking through them I thought it was pretty cool stuff. It went from flipping through books to going to airshows to building kits with my dad and then into model aviation."

Reiter will partake in the two-year program to receive an associate degree in aviation and a pilot's certificate. His goal is to become a commercial pilot and ultimately fulfill his dream of one day piloting a cross-Atlantic flight to Europe.


Reiter was born with an underdeveloped right arm and was adopted from a Russian orphanage by his parents, Michael and Anne, in Manchester, Maine. He tried skiing for the first time in seventh grade — around the same time his passion for aviation started — and fell in love with trekking through snowy trails.


Reiter has juggled his passion for the snow and sky during his career. When he couldn't train as often during the COVID-19 pandemic, he spent his free time building and flying model airplanes, as well as plane spotting around his local airport.
He built and flew model planes measuring more than five feet in width, and one day even dashed to the local airport when he spotted a North American B-25 Mitchell bomber plane from World War II just to watch it land with his own two eyes.
Reiter does not believe he'll need any modifications to fly, other than ensuring he sits in the left seat so that he can use the plane's steering wheel with his dominant hand. Since flight school will most certainly take up more time on his calendar than flying model planes, Reiter hopes it does not affect his skiing schedule too much.
"I don't know how busy I'm going to be, but I'll try to train and ski as much as I can," he said. "There are not necessarily transferable skills between the two, but you do have to stay somewhat fit to pass your medicals every six months for flying."
Reiter was not on the U.S. roster for the world championships in January, but he is still eyeing the Milano Cortina Games in 2026 as his final career Paralympics under the steady coach of Nick Michaud, who he has worked with since 2018.
"I haven't set my goals yet, but I'll have to talk to my coach and set those up and see where I am in the next couple of years," Reiter said.
If all goes according to plan, perhaps Reiter will fulfill two dreams in 2026 –– by flying himself to compete in Italy
Stuart Lieberman has covered Paralympic sports for more than 10 years, including for the International Paralympic Committee at the London 2012, Sochi 2014 and PyeongChang 2018 Games. He is a freelance contributor to USParaNordicSkiing.org on behalf of Red Line Editorial, Inc.