Finding Balance Is Key For Heather Galeotalanza In Quest For Paralympics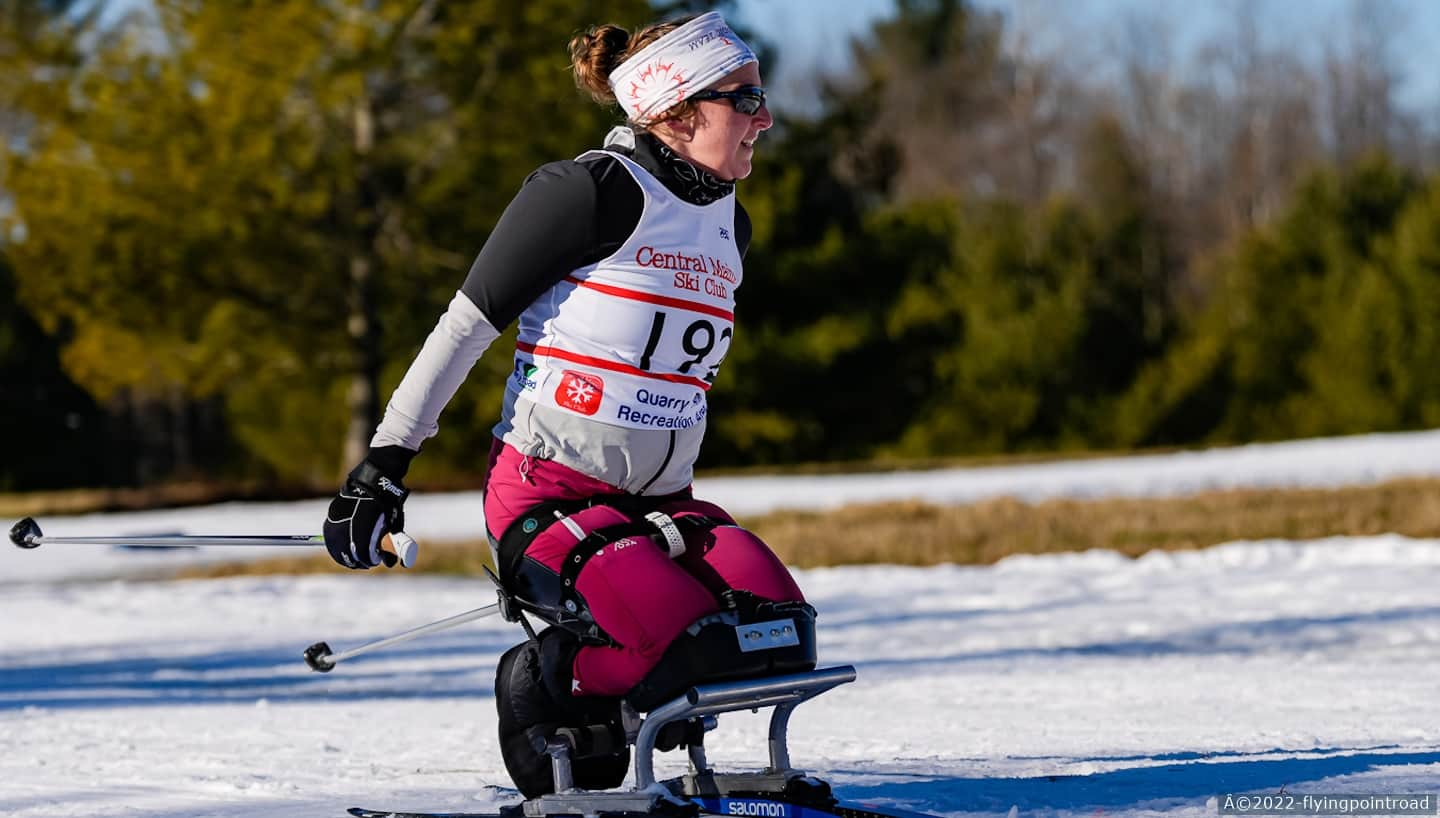 Heather Galeotalanza competes at the Quarry Road Opener.
Heather Galeotalanza spent her lunch breaks at work watching videos of the top U.S. Para Nordic skiers on her iPad.
She enjoyed studying footage to see how members of the U.S. national team approach races and handle the trickier courses.
Over the past year Galeotalanza, 37, has worked to find more balance in her life. She's still learning how to juggle her career as a nurse in Boston with the constant traveling and training that comes with being a promising sit skier with Paralympic aspirations.
Galeotalanza admitted she got burnt out last year while attempting to qualify for the Beijing Games.
She said she came down with the flu one week before she was set to compete in qualifying races for Beijing. As hard as she pushed herself in the races, she was ultimately slowed down and missed out on what would have been her Paralympic debut.
"It was definitely frustrating because I feel like I put in a lot of effort and a lot of time into training," Galeotalanza said. "I improved and I had personal bests in terms of points and things, which was awesome. But I was curious to see how well I would've done if I'd been able to race healthy and not coming off a pretty significant illness."
Galeotalanza said she didn't feel burnt out until she returned home from last year's sit ski nationals. Between working and training, she had reached a point where it all finally caught up to her and she needed to rest for few weeks.
"Last year, after the Boulder Mountain Tour, I took three or four weeks off of training and reevaluated to see what my goals would be going forward and to just kind of take away some of that pressure of training," Galeotalanza said. "And then (I) decided that I wanted to continue training and I wanted an opportunity to race when I was healthy this year and see how well I'd do."
Galeotalanza said she felt refreshed heading into her second season in the development race series, a race circuit organized by U.S. Paralympics Nordic Skiing for aspiring adaptive athletes. Although she didn't finish on the podium after the series was over, competing against other high-level sit skiers again was key for her.
Galeotalanza tried to get on snow as much as possible this winter, often spending her weekends training in Vermont, Maine and near her home in Boston.
She worked on conserving her energy and avoiding getting off too fast in the beginning of races, wanting to make sure she'd have enough energy down the stretch to finish strong. She also focused on improving her maneuvering and rounding corners.
In early January, Galeotalanza rebounded from a difficult first day at this year's sit ski nationals at Soldier Hollow in Midway, Utah, and felt encouraged after her strong performance in her second race.
She placed fourth in the women's 5-kilometer cross-country race with a time of 29 minutes, 9.2 seconds. She finished behind three sit skiers who competed at the Paralympic Winter Games Beijing 2022 — Canadian Lyne-Marie Bilodeau (23:30.9) and Americans Erin Martin (23:42.0) and Lera Doederlein (24:38.9), respectively.
"The first big race I did at nationals (the cross-country sprint), I finished and I felt like I had a lot of room for improvement. And I broke a ski on the training run," Galeotalanza said. "So the first event didn't go as I'd hoped, and then the second one, the 5K, went a lot better."
Galeotalanza said she felt a sense of pride with her fourth-place finish, especially since her family was in attendance at Soldier Hollow to cheer her on during the race.
She said she's now looking to take a break from training after sustaining a torn rotator cuff, which was made worse when she had a hard fall during a training camp. Overall, last year took a toll on her.
Galeotalanza is looking to qualify for the Milano Cortina Winter Games in 2026. However, now that it's the offseason, she said she wants to take some time to figure out her plan moving forward.
"I think this next year I'm going to focus more on personal versus skiing goals," she said.
Alex Abrams has written about Olympic and Paralympic sports for more than 15 years, including as a reporter for major newspapers in Florida, Arkansas and Oklahoma. He is a freelance contributor to USParaNordic.orgon behalf of Red Line Editorial, Inc.