Bend Development Camp A Welcome Training Opportunity For Martin, Outlaw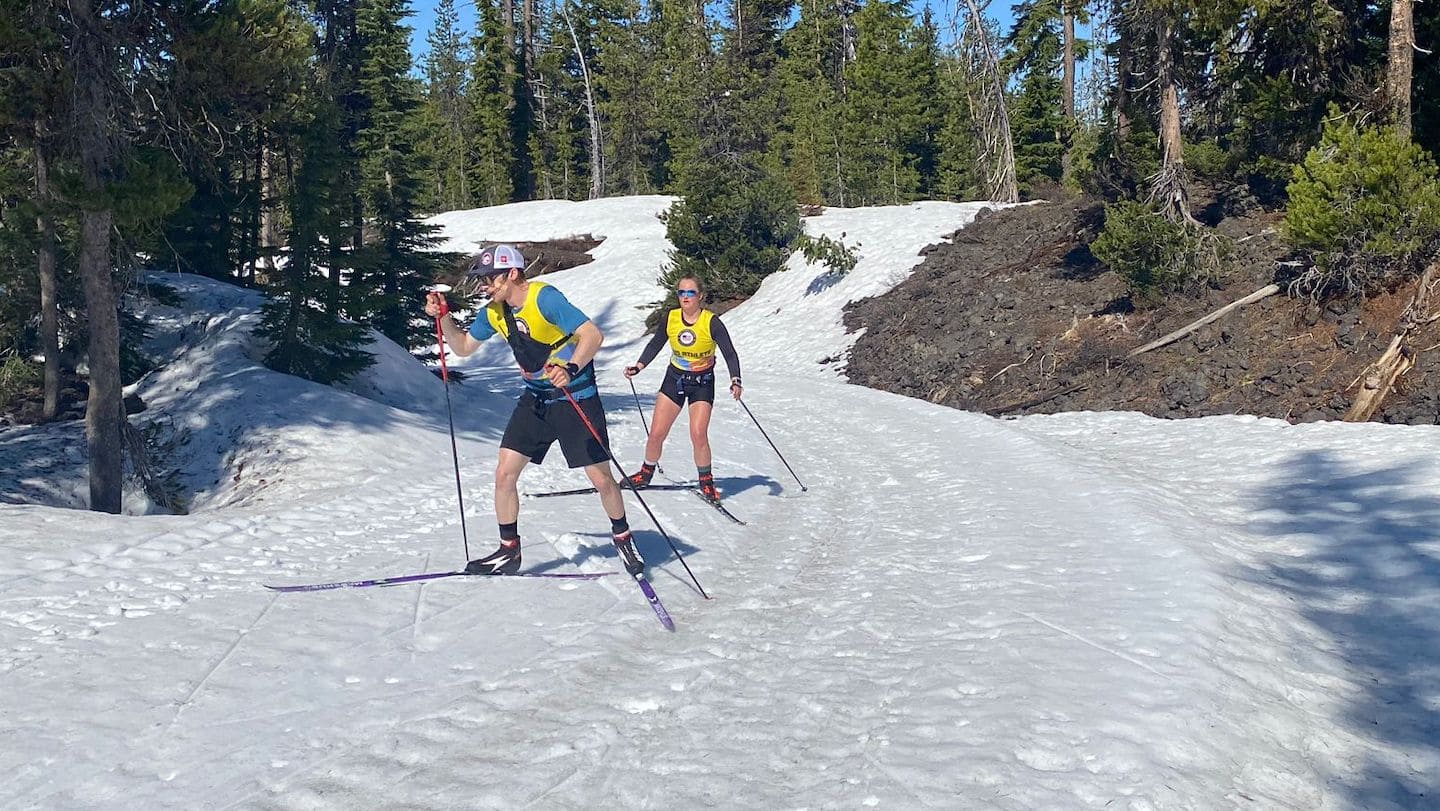 Pearl Outlaw trains in Bend, Oregon.
Erin Martin and Pearl Outlaw aren't done skiing and enjoying some time on snow, even as much of the country deals with warm temperatures this spring.
The two athletes will spend the next few days getting in extra work and receiving plenty of one-on-one coaching at a U.S. Paralympics Nordic Skiing development camp in Bend, Oregon. The camp began on Tuesday and ran through Sunday.
Martin made her Paralympic debut as a sit skier in Beijing last year. Outlaw, meanwhile, is a world-class rower who's learning more about Para Nordic skiing in the hopes of someday becoming a two-sport star.
Martin and Outlaw, who is blind, are at different stages in their skiing careers, but they're training partners at the development camp this week. They'll go skiing at Mount Bachelor in the morning, and then after lunch, they'll do strength training in the gym and dryland training on the trails around Bend.
"Bend in May is a bit of a tradition. It's a really amazing opportunity to get on snow in the spring," said BethAnn Chamberlain, a development coach with U.S. Paralympics Nordic Skiing. "We don't have any races or events in the near future, so it really can be a fun camp. It's a time of year that we're putting in a lot of time, a lot of volume of training at this point in time, (and) the trails here lend to just beautiful skiing.
"It's just really beneficial. This time of year we're also setting the foundation for the rest of our season, so we can work on technique aspects that are harder to do on dryland training, especially for sit skiers but also for Pearl in that visually impaired class."
Martin, who's a member of the U.S. Paralympics Nordic Skiing development team, was crowned the winner of the National Para Nordic Development Race Series in April. Outlaw finished as the runner-up to Martin.
U.S. Paralympics Nordic Skiing started the race circuit last year as a way to encourage adaptive athletes to get on snow and take part in Nordic skiing races across the country.
Chamberlain said the Bend development camp will give U.S. Paralympics Nordic Skiing coaches an opportunity to spend more time than they usually get during the year to work with Martin and Outlaw, who'll be accompanied by her guide.
That additional training time is important, Chamberlain said, especially since Martin and Outlaw have physical impairments that coaches don't often see. Coaches will get to learn more about what works for both athletes while in Bend.
Outlaw, a native of Charlottesville, Virginia, was born with retinitis pigmentosa, a genetic condition that causes cells in the retina to break down. Her vision quickly deteriorated during her sophomore and junior years at Ithaca College, and she's now almost totally blind.
"The skiing, the coaching, the guiding, all of it is kind of unique to that (B1 – totally blind) class," Chamberlain said. "And we wanted to spend a little bit of a deep dive on figuring out the nuances of what works best for the B1 athlete and also what works best for Pearl."
In addition to doing more skiing with her guide in Bend, Outlaw is training this week with the audio system that visually impaired skiers use during the shooting portion of the biathlon. The system is similar to a laser gun to hit targets.
Outlaw told TeamUSA.org last year that she had moved to Portland, Oregon, to train with her rowing partner for the Paralympic Games Paris 2024. However, she said qualifying as a Nordic skier for the 2026 Milano Cortina Winter Paralympics was "definitely" on her mind.
"The only big difference (with Nordic skiing) that I had to adjust to was the element of balance and weight, like transferring your weight in skiing from one foot to the other," Outlaw told TeamUSA.org. "With rowers, we have a running joke that we're not agile and we are not balancing because we're just sitting. We're sitting in a boat, and we're strapped in."
Martin, meanwhile, has developed into a promising Para Nordic skier after sustaining a spinal cord injury in a rock-climbing accident.
During her Paralympic debut in Beijing, the Seattle native finished 15th in the cross-country skiing middle-distance race and 16th in the cross-country skiing sprint.
Chamberlain said this week's development camp will allow Martin to get more time on snow, where she can work more on maneuvering in her sit ski during a race.
"She's using everything that she's got while she's skiing, but that technique looks a little different because of her unique situation, because of being in that LW10 class," Chamberlain said. "She's using shoulders. She doesn't have a lot of core to use, right? And so the techniques, the climbing, the descending, the maneuvering, all of it is a little bit different, and there are some best practices.
"We've learned a lot in working with her. We have a great base, but we're really excited to kind of deep dive a little further into that and see how we can help bring her to the next level and then also learn a lot from working with her as an LW10 of what best practices we can pass along to others that are up-and-coming in that same class."
To help stay in shape this offseason, Outlaw and Martin were expected to do some dryland training around Bend. Outlaw was expected to go trail running, while Martin was planning to get on a handcycle and make her way along the mountain bike trails in the area with Oregon Adaptive Sports.
"As cross-country skiers and biathletes, we're pretty unique. … We spend maybe half the year on snow, if that," Chamberlain said. "So we maximize every minute that we can get this time of year."
Alex Abrams has written about Olympic and Paralympic sports for more than 15 years, including as a reporter for major newspapers in Florida, Arkansas and Oklahoma. He is a freelance contributor to USParaNordicSkiing.org on behalf of Red Line Editorial, Inc.