Coming Off Freshman Year In College, Max Nelson Continues to Improve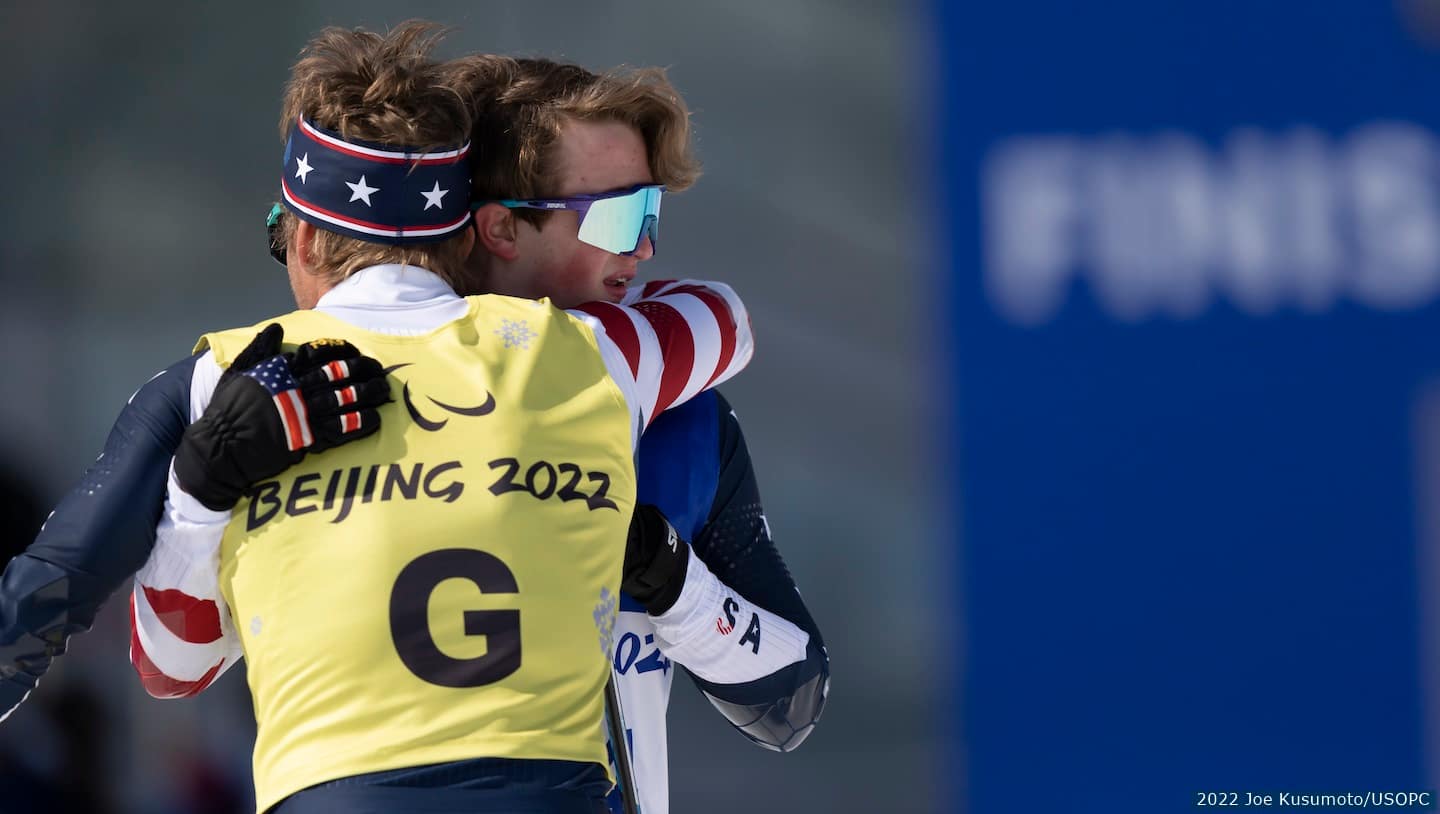 Max Nelson and his guide Simi Hamilton embrace after a race at the 2022 Winter Paralympic Games. (Photo: Joe Kusumoto)
As of this summer, Max Nelson is done with Dignitas, the College of St. Scholastica's trial-by-fire program for freshmen.
Nelson enrolled in the Duluth, Minnesota, school last fall, following his Paralympic debut for Team USA at the 2022 Winter Games in Beijing. Along the way, the visually impaired skier has enjoyed a second-year surge on the U.S. Para Nordic team, including a strong 2022-23 world cup season that left him convinced every aspect of his game is trending north.
"Technique, physicality, strength, mental toughness," he said. "Everything on the board was increased."
Now having conquered his core requirement at St. Scholastica, he can say the same about his growth as a student and a citizen. Nelson succinctly describes Dignitas (from the Latin for "dignity") as "a self-improvement class."
St. Scholastica's course catalog states the purpose a little more broadly. Dignitas prepares new students for the balance of their undergraduate tenure while "focusing on the intrinsic, absolute value of being a person." This happens through a gauntlet of reading assignments, reflective papers and oral presentations.
Nelson had a heads-up on those rigors, courtesy of his season-long ski guide, Cody Schneider. A former two-sport St. Scholastica student-athlete in Nordic skiing and cross country running, Schneider linked up with Nelson after graduating last summer.
From there, he lent a constant presence that steadied Nelson as he came off the high of his Paralympic debut and adapted to dwelling solo in a dorm. Despite his international seasoning, Nelson was a lifelong suburban St. Paul homebody. Even an ostensibly meager 2.5-hour move up north for half a year, he said, "was a difficult transition that I didn't know I was ready to do."
He proved himself better braced for the upheaval than he thought. Naturally, though, he defers a hefty fraction of that credit to Schneider, whose tours familiarized him with all of the essential environs. Beyond campus, Schneider chauffeured his student to Duluth's best training spots.
"In a way he's like my brother because I spent more time with him than with most of my family," Nelson said. "Having someone you can relate to who is not much older than you and you can have fun with is so big."
That does not mean the 22-year-old Schneider, who replaced the 36-year-old three-time Olympian Simi Hamilton as Nelson's guide after the 2022 Paralympics, will not lay down the laws of business as needed. When Nelson griped about a sense of fatigue, his guide reminded him of that feeling's universality.
"Cody's like, 'Dude, everyone feels tired,'" said Nelson.
It was a parental message with a peer-like delivery, and it worked without fail.
"Now I never say I'm tired anymore because it is true, everyone is tired," Nelson said. "That kind of stuck with me. I don't really know why, but it did."
One potential explanation for Nelson's willingness to find hidden energy is his tendency to reverse negative energy. He has been Nordic skiing since age 6, and the sport won out as his specialty over a half-dozen other activities he contemporaneously took up.
Ice skating, running, swimming, taekwondo, T-ball and wrestling all had their appeal. But while Nelson particularly appreciates the discipline he acquired from taekwondo, where he came tantalizingly close to a black belt, only the slopes meshed with him as he matured.
That passion's unique staying power lends Nelson an equally durable determination. He singles out that trait for landing him on the national team roster.
"Whenever I didn't do good in a race, I used that anger and fused it into my training," he said. "If I keep it consistent despite how I feel, it will help me in the long run, and I know it's the best place for me."
His place on a given leaderboard is already looking better, cementing a campaign he calls "a big year in self-improvement on the sports side of things." As part of his last impression on the world cup's Soldier Hollow leg in Midway, Utah, he finished sixth in the cross-country sprint and eighth in middle-distance.
Those marked noted improvements on his Paralympic report card of 13th in middle-distance cross-country and 14th in the sprint. They also complement the theme of his Dignitas syllabus. "Mine's like 'on a quest,'" he said.
This summer, Nelson's perpetual hunt for improvement will primarily mean further fine-tuning his technique. He has an ideal note to ride into that regimen, having capped the world cup tour with another worthwhile venture into uncharted territory.
For his final 2022-23 event on March 8, Nelson tackled his first long-distance race in the 20-kilometer freestyle.
"I was very skeptical about how it would go," he admitted. "I was going into it pretty negatively, which I usually don't do with races."
Yet he went through with it and did better than preserve his dignity. With a finish of 53:39.3 for fourth place, he amplified it.
"It turns out," he said, "that was my best race of the year."
Al Daniel is a freelance features writer and contributor to USParaNordicSkiing.org on behalf of Red Line Editorial, Inc. You can follow him on Twitter @WriterAlDaniel.